Things to Do on the Oregon Trail with Kids
The Oregon Trail was the original road trip for kids, as families—rather than lone fur trappers and traders—loaded up their wagons and headed west. It was a tough trip, and kids had important jobs along the way, like picking up wood or buffalo chips for making fire. But it also must have been a wild adventure full of exciting sights. Today's journey is perfectly suited to kids, especially grade-schoolers who might have read about the history in class. Older teenagers can learn about the rigors of the trail while they camp and enjoy outdoor adventures in state parks. Almost every large museum along the way will have a kids' section full of toys, games, and activities to help bring the trail's history to life (or just let mom and dad have a quiet hour). Here are some of the best adventures along the way:
Missouri
Pioneer Trails Adventures
Kick off the official start of the Oregon Trail with a fun covered-wagon ride from Independence Square, where emigrants also set out.
City Museum
If you start from St. Louis, check out this wondrous playground of a museum; it's not related to the trail, but it boasts a five-story slide, hidden passageways to climb, and so much more.
Nebraska
Harold Warp Pioneer Village
Spend an afternoon exploring this quirky "village," made up of 28 authentic buildings that tell stories from the pioneer times to the present.
The Archway
This museum uses video, audio, and interactive exhibits to tell the story of travel along the Platte River, from the Oregon Trail to today's interstate, and outside you'll find a fun maze for kids.
Wyoming
National Historic Trails Interpretive Center
Ford a virtual river and pull a handcart like many Mormon emigrants used at this interactive museum.
Historic Trails West Tours
Join a covered-wagon ride and head into the hills outside Casper for a pioneer-style outing.
Mormon Handcart Historic Site at Martin's Cove
Older kids can try pulling their own handcart, while younger folks can take a ride.
Idaho
National Oregon/California Trail Center
Head out on a simulated wagon ride guided by living-history actors at this interactive museum.
Lava Hot Springs
Pioneers soaked in the springs here, and today, so can you and your kids—with the added benefit of water slides.
Oregon
Tamástslikt Cultural Institute
Hear the Walla Walla, Cayuse, and Umatilla tribes' story of creation in the Coyote Theater, then explore the Living Culture Village, which has replicas of tepees and other lodgings that the local tribes have called home.
End of the Oregon Trail Interpretive Center
Pack your wagon, dip a real candle, and dress up like a pioneer at this interactive museum at the official end of the Oregon Trail.
Start planning your adventure.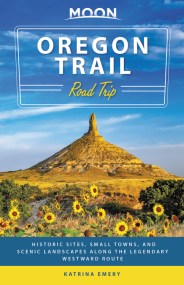 Vast rugged prairies, adventurous Wild West towns, and the palpable spirit of the pioneers: Experience legend come to life with Moon Oregon Trail Road Trip.