The Best of the West on the Oregon Trail
In addition to Oregon Trail history, this route affords access to some of today's best of the West. From chowing down on some Kansas City barbecue to windsurfing in Hood River, Oregon, here's your guide to the best of the Oregon Trail.
Food and Drink
Beyond the burgers and steaks, sample delicious regional food and drink.
Barbecue, Missouri
Both St. Louis and Kansas City have their own meaty traditions.
Runza, Nebraska
This breaded pocket of meat was brought to the plains by Eastern European immigrants and is now ubiquitous across the state.
Basque Cuisine, Idaho
With a thriving Basque population, Boise is one of the best places to try this cuisine outside of Europe.
Craft Beer
Enjoy local brews along the trail, especially in Portland, known as Beervana.
Recreation
Explore the dramatic landscapes of the West.
Platte River, Nebraska and Wyoming
Go kayaking, try the Nebraskan activity of "tanking, or fish for trout along the length of this river.
City of Rocks, Idaho
Unique geological formations create a hiking and rock-climbing playground.
Thousand Springs Scenic Byway, Idaho
Soak in hot springs, hike, and kayak along this lovely stretch.
Bruneau Dunes, Idaho
These sandy dunes offer opportunities for hiking, sandboarding, and stargazing.
Wallowa Mountains, Oregon
Explore this gorgeous region from the gateway town of Joseph.
Columbia River Gorge, Oregon
Hike, bike, windsurf, or kiteboard in this National Scenic Area.
Old West
Get a taste of the Wild West.
Ogallala, Nebraska
Known as the Cowboy Capital of Nebraska, Ogallala has a kitschy historical Front Street.
South Pass City, Wyoming
Once a booming mining town, this ghost town is a well-preserved place to explore mines and Old West boardwalks.
Pendleton, Oregon
Slinging whiskey and woolen blankets, and thick with rodeo culture, Pendleton is a cowboy and cowgirl town through and through.
Rodeos
See the show during NEBRASKAland Days, Cheyenne Frontier Days, or the Pendleton Round-Up.
Small-Town Charm
Explore quaint streets and local flavors.
Lander, Wyoming
Lander is an outdoorsy town in the shadows of the Wind River Mountains.
Idaho Falls, Idaho
Find a walkable downtown set along the Snake River.
Joseph, Oregon
This scenic town is nestled at the base of the Wallowa Mountains.
Walla Walla, Washington
Enjoy the wine and produce of the Walla Walla Valley in this sweet spot.
Hood River, Oregon
Set along the Columbia River Gorge is this hot spot for windsurfing, kiteboarding, beer, and good food.
Lively Cities
Enjoy the bustle of the cities.
St. Louis, Missouri
Gaze west from the top of Gateway Arch, then enjoy barbecue and jazz in this fun city.
Kansas City, Missouri
Enjoy history, art, and shopping alongside your barbecue and jazz.
Lincoln, Nebraska
Cheer on a college football game, then enjoy a night out in the historic district
Boise, Idaho
Enjoy the small-town feel of this vibrant city offering great drinks, restaurants, shops, and outdoor fun.
Portland, Oregon
Taste your way through Beervana and enjoy a bike ride or hike in playful Portland.
Quirk Quotient
Step into something a little weird at these inspired stops.
City Museum, Missouri
This fantastic playground for kids and adults is a veritable labyrinth of slides and secret rooms.
Carhenge, Nebraska
See the one-to-one scale ratio of Stonehenge—as built out of automobiles.
Douglas, Wyoming
Get a jackalope hunting certificate in the city from which the mythical creature originates.
Museum of Clean, Idaho
Do some pioneer laundry, among other things, at this fun and interactive museum that explores the history of cleaning.
Emu-Z-Um, Idaho
You'll never see a bigger collection of, well, anything, than at this museum comprised of more than 15 buildings holding all manner of odd antiques.
Start planning your adventure.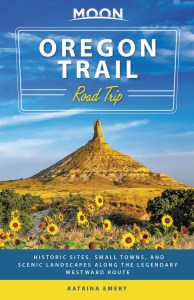 Vast rugged prairies, adventurous Wild West towns, and the palpable spirit of the pioneers: Experience legend come to life with Moon Oregon Trail Road Trip.