12 Gift Ideas for World Travelers
Looking for unique gift ideas for the jet-setter in your life? Here are the 12 best travel-themed gifts for anyone dreaming of their next vacation.
1. A Good Book
This stunning, hardcover book is packed with full-color photos, charming illustrations, and fascinating overviews of each route, making it the perfect gift for dreamers and adventurers alike.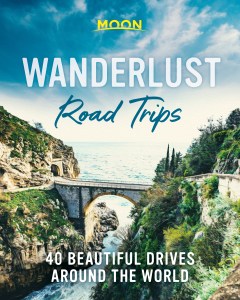 Get inspired with 40 of the world's most incredible road trips, with bucket-list drives in the US, Canada, Latin America, Europe, Africa, the Middle East, and Asia.
Even that nomadic friend who's been everywhere will discover something new in Wanderlust. Packed with lists of the world's best natural wonders, quirky festivals, bucket-list sites, epic outdoor adventures, and more, Wanderlust is the definitive book for the curious traveler.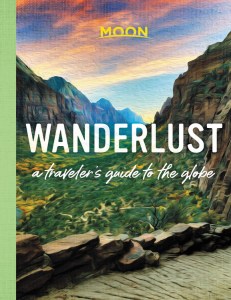 Dream, discover, and uncover your next great adventure. Moon Travel Guides takes you on a journey around the world with Wanderlust: A Traveler's Guide to the Globe.
More Great Choices
2. Packing Cubes
Packing cubes are popular for a reason, and this 5-piece set from Calpak is ideal for the world traveler who's a little…extra. With options like leopard print and rose gold metallic, these cubes make packing fun again.
3. The Carry-on Cocktail Kit
Cocktail connoisseurs may find in-flight beverage options a little basic. Fortunately, these clever carry-on cocktail kits save the day, with all the ingredients for two perfect cocktails—just add a mini bottle of alcohol. Bottoms up!
4. Scratch Map Deluxe
Like a visual bucket list, this scratch-off map allows travelers to see every place they've been—and muse about how many places they still want to go.
5. Collapsible Water Bottle
With single-use plastic becoming less and less popular (we see you, SFO) and heavy-duty stainless-steel bottles being a little, well, heavy, a collapsible water bottle seems like a no-brainer. The silicone Hydaway bottle is small enough to fit in your pocket when collapsed—gift it to that friend who likes to work out or hike while on vacation.
6. Wall Art
Know someone moving into a new place or finally getting around to framing all those travel photos? This framed wall art featuring iconic European destinations will make for a great addition to a travel lover's home decor.
7. Travel Journal
These cute travel journals from Bobo Design Studio come in two colors and are water-resistant. They are perfect for jotting down all of their adventures!
8. Jigsaw Puzzle
Maybe they can't hop into a plane right now, but exploring the vast expanse of China's Great Wall is still an option with this 1000-piece puzzle. The Original Puzzle company has a wide variety of travel-inspired puzzles with international destinations like Angkor Wat, Cinque Terre, London, and more.
9. Leatherology Personalized Luggage Tag
Elevate even the most basic suitcase with this leather luggage tag, which includes options for monogramming (including hand-painting).
10. Homesick Candles
Who doesn't wax nostalgic about all the places they've traveled? With scents inspired by France, India, Mexico, and more (plus U.S. cities and states, too), these Homesick candles will take you halfway around the world—no plane ticket required.
11. Anker Portable Phone Charger
It may be more practical than fun, but the tried-and-true portable phone charger from Anker is essential for a quick charge on the road.
12. Cooking Kit

When they can't hop on a plane, why not try hopping into the kitchen? This Homemade Truffle Ravioli Kit will transport their tastebuds and make for a fun weekend project.
---
Pin it for Later