15 Gift Ideas for Road Trippers
Not sure what to get the road-warrior in your life? From practical to cozy to just plain fun, these gifts will help your loved one hit the road in style.
1. A Travel Guide
The ultimate guide to America's best road trips, The Open Road features 50 Best Road Trips in the USA, with mile-by-mile highlights like outdoor adventures, kitschy roadside attractions, weekend getaways, and more.
Moon USA State by State is the perfect companion to take on a road trip! It combines the top things to do in every state in one inspirational collection, packed with full-color photos.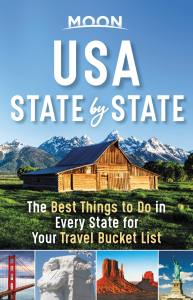 From the Pacific to the Atlantic, through prairies and bayous to snow-capped mountains, uncover the best of the US with Moon USA State by State.
More road trip travel guides: Moon Baseball Road Trips and Road Trip USA
2. Polarized Sunglasses
Don't leave your loved ones squinting in the sun: these aviator sunglasses are polarized, with UV protection and thin temples that keep a driver's peripheral vision wide open.
3. Portable Car Jump Starter
Getting stranded with a dead battery on a lonely road sounds like the stuff of horror movies—but it doesn't have to be. This portable jumper is small enough to fit in a glovebox, has a helpful LED light, and can jump start cars, motorcycles, snowmobiles, and even yachts (you know, just in case).
4. Awake Dark Chocolate Bars

Just the right size for a stocking stuffer, these caffeinated chocolate bars will keep drivers focused for long stretches when there's no coffee stop in sight.
5. Matador Pocket Blanket

This tiny blanket is downright magic. When packed away, it's smaller than your hand, but unfolds into a durable picnic blanket for two—perfect for rest stops and mountaintops alike.
6. Hydro Flask Water Bottle
A stainless-steel water bottle keeps water cold without any condensation, and the sport cap makes it easy for drivers to keep a hand on the wheel and avoid spills. It's a win-win.
7. EverBrite Mini LED Flashlights
In a sticky situation, it's best to have more than one flashlight on hand. These LED flashlights come in fun colors and have a soft rubber grip. They also glow in the dark, so you can locate them quickly in an emergency.
8. MadLibs on the Road
The longest and most tedious highway journeys call for Mad Libs. Stuff this in the stocking of your favorite road-tripping family and they're sure to have a _________(adjective) time.
9. Fujifilm Instax Mini 9
This instant camera is both practical and trendy, complete with a built-in selfie mirror and an extra close-up collapsible lens. Get this for the young road-tripper in your life who wants to document everything along the way.
10. Yeti Roadie 24 Cooler
Made for the most serious road-tripper on your list, this Yeti cooler means business. With extra thick walls and a freezer-tight seal, it protects against extreme temperatures—and bears!
11. Travel Pillow
This super-soft travel pillow also comes with earplugs and an eye mask, so passengers can rest up for their next stint behind the wheel.
12. Cell Phone Mount

For easy access to a map app or that Spotify playlist, a cell phone mount is a must-have for safe driving.
13. Travel Bingo
Bingo is an old-school classic, fun for the whole family (or group of adults, no judgment here!).
14. Car Seat Cushion

Don't let discomfort dampen the road trip experience—give those car seats an upgrade with Purple's Simply Seat Cushion.
15. Travel Toiletry Kit

This handy travel toiletry kit from Pinch Provisions has a little bit of everything to keep road trippers feeling fresh on their journey.
---
What to read next:
Pin it for Later