Best Outdoor Adventures in Ohio by Region
Each of Ohio's regions offer their own inspiration for outdoor adventures, with plentiful opportunities for hiking, biking, paddling, and more.
Columbus and Vicinity
Spend a lazy afternoon soaking up the sun and swimming at Alum Creek State Park, home to Ohio's largest inland beach.
Kayak your way through the city on the Scioto and Olentangy Rivers with Olentangy Paddle.
Go rock climbing at Scioto Audubon Metro Park, where you'll find the largest free outdoor climbing wall in the United States.
Amish Country and Central Ohio
Mohican State Park is the center of the "Camp and Canoe Capital of Ohio," with thousands of campsites and several canoe liveries in the region, plus miles of hiking around the Mohican River gorge and a 25-mile (40-km) mountain bike trail.
Hikers can explore canal ruins and disused railroad tunnels at Blackhand Gorge State Nature Preserve.
Amish Country's rails-to-trails Holmes County Trail connects Amish communities through rolling farmland and is utilized by hikers, bikers, and buggies alike.
Cleveland and Vicinity
Spend a day on the beach at Headlands Beach State Park, one of the state's most popular swimming destinations, and the adjacent Headlands Dunes State Nature Preserve, with trails meandering through beach grass. On the opposite side of the Grand River is the family-friendly beach at Fairport Harbor Lakefront Park.
Cleveland's Metroparks offer dozens of miles of hiking through woods and cliffs, best of all at Rocky River Reservation.
Cuyahoga Valley and Northeast Ohio
Over 100 miles (161 km) of hiking trails wind past cliffs, waterfalls, and dense forest in Ohio's only national park, Cuyahoga Valley National Park. The park's lovely 60-foot (18.3-m) Brandywine Falls is the tallest in Ohio.
Hike or bike the multiuse Ohio & Erie Canal Towpath Trail, which runs 87 miles (140 km) from Cleveland, through the national park, south through Akron, and on to Tuscarawas County.
Hit the slopes at Boston Mills and Brandywine ski resorts, sister resorts within the national park.
Relax on the beach, go zip-lining, rent kayaks and paddleboards, or hire a fishing charter at Geneva State Park, on the shore of Lake Erie.
Lake Erie and Northwest Ohio
Boating abounds along the Lake Erie shoreline, with marinas dotting the coast.
Camp at East Harbor State Park and enjoy the sandy swimming beach.
On Put-in-Bay, rent kayaks or Jet Skis and explore the small bluffs around the island, or hire a fishing charter to find some perch or walleye.
Book a stay at the lodge or the campgrounds at Maumee Bay State Park, which also features swimming beaches as well as hiking. The park is a good birding spot, especially in the spring, as are the coastal marshes of nearby Ottawa National Wildlife Refuge and its surrounding nature preserves.
Kayak the Maumee River Water Trail, a collection of over 30 access points for over 100 miles (161 km) of accessible waterways.
Hike at Toledo's giant Oak Openings Preserve Metropark, which offers over 50 miles (81 km) of trails through the unusual oak savanna ecosystem.
Cincinnati and Vicinity
Explore the wooded ravines racing down to the Ohio River in the large parks outside the city center. Go hiking, mountain biking, or horseback riding at Mt. Airy Forest, or visit its wheelchair-accessible tree house. Look for 450-million-year-old trilobite fossils in the 100-foot (30-m) gorge within Sharon Woods.
Take up a paddle at Fifty West Canoe & Kayak and head out on the Little Miami River.
Dayton and Southwest Ohio
One of Ohio's best day-trip options, Yellow Springs features excellent hiking at John Bryan State Park and two adjacent preserves (Clifton Gorge State Nature Preserve and Glen Helen Nature Preserve) with gorges and waterfalls. John Bryan State Park also offers mountain bike trails and opportunities for rock climbing.
The paved, multiuse Little Miami Scenic Trail makes for good biking in and between Cincinnati and Dayton.
Caesar Creek State Park's Caesar Creek Lake is one of Ohio's best boating spots, with five boat ramps and a marina.
Hike to one of Ohio's best overlooks in Edge of Appalachia Nature Preserve, through old-growth forest in Highlands Nature Sanctuary, or among ancient Hopewell mounds at Fort Hill Earthworks and Nature Preserve.
Appalachian Foothills
Hike past recess caves, waterfalls, and cliffs at Hocking Hills State Park, with Ash Cave the biggest highlight. Camp within the park or any of the region's nearby campgrounds.
Go backpacking in Wayne National Forest or Zaleski State Forest.
Add some adventure sports to the hiking: Go zip-lining at Hocking Hills Canopy Tours. Try off-road driving with NevilleBillie Adventure Park's ATVs, or take on its massive ropes course. Climb up a cliff at High Rock Adventures.
Paddle or float down the Hocking River with either of Logan's two liveries.
Head to Marietta for the city's mountain biking trails or to paddle along the Muskingum or Ohio Rivers.
Do a little bit of everything while staying at the lodge at Salt Fork State Park, with boating, a beach, hiking, and golf.
---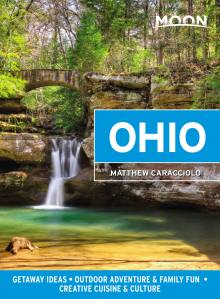 From cities with old-world charm to endless family adventures in the great outdoors, experience the best of the Buckeye State with Moon Ohio.
---
Pin it for Later