Best Islands in Fiji to Visit
The remote archipelago of Fiji is comprised of approximately 330 islands—a fact that can be overwhelming when deciding where to go. We've narrowed it down with this list of Fiji's best islands, so you can plan your perfect getaway (and let the island-hopping begin!).
Nadi and Vicinity
As the site of Fiji's international airport, Nadi is the country's gateway, with lots of glassy storefronts and cultural sights. It's a great place to acclimate while exposing your taste buds to everything from cheap street snacks to Fiji's emerging nouveau cuisine. Just a tiny hop over a small bridge is resort-rich Denarau Island, a fun and safe place to party, relax, try a new water sport, or embark on a half-day excursion to the western islets. South is the historic Momi Bay gun battery, and inland is the mountainous Sleeping Giant jungle, with zip-lining and a 35-acre eco-park.
Don't miss:
Sri Siva Subrahmaniya Swami Temple: The largest and most colorful Hindu temple in the South Pacific is open to visitors.
The Mamanuca and Yasawa Islands
For the romantic beaches of the travel brochures, spend a day or a week at these enticing archipelagoes an easy hop from Nadi. Most of Fiji's island resorts are here, with clear waters, golden or white sands, and dazzling reefs. These mini-paradises have seduced generations of global audiences through productions such as The Blue Lagoon, Cast Away, and season 33 onward of Survivor. You don't have to earn a superstar salary, though, to visit their natural beauty by cruise, catamaran, or seaplane.
Don't miss:
Swimming with Manta Rays: April is the best month to see huge manta rays migrating through the channel between Nanuya Balavu and Drawaqa Islands.
The Coral Coast
The southern flank of Fiji's main island, Viti Levu, is the Coral Coast, where Fijian tourism began. Dozens of resorts, hotels, and hostels stretch along 50 miles of beach, with plenty of places to tempt travelers to pause—whether for a scenic round of golf at world-famous Natadola, a challenging sand hike over the Sigatoka Sand Dunes, a snorkel and barbecue on the beach, or an array of other tours and activities available in this developed region. At the eastern end, Pacific Harbour is a hub for sea-based action sports, while the stunning Navua River beckons to white-water rafters.
Don't miss:
Namosi Village Stay: The best village stay in Fiji is in a guest bure at Namosi Eco Retreat, high in the rocky green mountains above Pacific Harbour.
Suva and the Kadavu Group
The largest and most cosmopolitan city in Oceania, Suva offers tons of culture, shopping, and eating. Fiji's largest museum, hippest night- clubs, and numerous historic buildings are here. To the north, a tiny well-kept rainforest at Colo-i-Suva and a reef frequented by spinner dolphins offer outdoor adventure. Offshore, lush Kadavu Island offers access to the virtually untouched Great Astrolabe Reef.
Don't miss:
Grand Pacific Hotel: Historic and elegant, this lovingly restored Edwardian-style edifice—once a centerpiece of colonial Suva—welcomes visitors for a dip in the pool, a scenic sunset cocktail or high tea, and a glimpse back in time.
Northern Coast and Interior Viti Levu
On Viti Levu's northern half, seascapes give way to vast sugar plantations and lush volcanic forests intercut by networks of rivers and streams. The paved two-lane Kings Highway makes for comfortable travel to sugar city Lautoka and sleepy Rakiraki. Avid hikers can choose from several glorious, virtually tourist-free treks up into the lush mountains and sweeping valleys of the interior Nausori Highlands and Fiji's highest peak, Mount Tomaniivi. Nananu-i-Ra Island is a favorite of scuba divers, windsurfers, and backpackers.
Don't miss:
Hiking Mount Tomaniivi: A rigorous six-hour round-trip hike takes you through meadows and streams to the peak of Fiji's highest mountain, where you'll be rewarded with a 360-degree summit view of all of Viti Levu.
Taveuni
The garden island's high spine is draped in luscious rainforest, with huge coconut plantations, magnificent waterfalls, and an oceanic blowhole spurting through black lava rock. Several lovely community-led nature reserves are on the east side, while to the west, the fabulous soft corals of the Rainbow Reef and Great White Wall stretch across Somosomo Strait.
Don't miss:
Bouma National Heritage Park: This accessible nature reserve has three waterfalls, good hiking and snorkeling, and sustainable tourism projects that directly assist the local communities.
Vanua Levu
The heart of the "friendly north," Fiji's second-largest island feels worlds away from Viti Levu. Savusavu is a picturesque town with an active, friendly marina scene, and two spectacular highways sweep north through mountains and east along a verdant coast. There's plenty to do here, whether it's visiting a pearl farm, enjoying a thermal mud bath, or going on a scenic search along the Hibiscus Highway for the elusive Natewa silktail bird.
Don't miss:
Temple Tours: Several colorful Hindu temples in and around Labasa give you a chance to experience Indo-Fijian community life.
The Lomaiviti Group
Anyone with an interest in Fiji's vivid history won't want to miss Ovalau Island and the time-worn old capital, Levuka. The town's long row of wooden storefronts looks like the set of a Wild West film, set below towering volcanic peaks. Several smaller islands have resorts with everything from dorms to luxury villas alongside the nutrient-rich Koro Sea, lively and healthy for diving and fishing.
Don't miss:
Koro Island: You can't get any closer to the "real Fiji" than this lush beautiful island.
The Outer Islands
Words like pristine, untouched, and idyllic were invented for these little-known islands in the Lau Group and Moala Group to the east and Rotuma Island far to the north. It's worth the extra effort to travel where few tourists go in order to experience some of the most fantastic beaches, therapeutic mineral springs, and stunning limestone formations in the world.
Don't miss:
Ono-i-Lau Island: Snorkel a coral-filled lagoon in an ancient volcanic crater. It'll just be you and the fish.
---
Start planning your adventure today: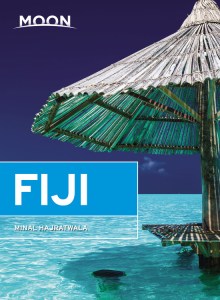 Explore the colorful reefs, volcanic canyons, emerald rainforests, and unspoiled beaches of this sparkling archipelago with Moon Fiji.
---
Pin it for Later