Where to See California Wildflowers
California's wildflower season begins in mid-March on the floors of Southern California's vast deserts, and moves north through its great valleys, coastal plains, woodland foothills, and culminates high in its mountain meadows in late July. Time your visit carefully to the parks below to maximize your chances of seeing some brilliant blooms.
Anza Borrego Desert State Park is the first stop on a wildflower tour. For just a few weeks, the park is awash in tufts of purple, yellow, white, and gold, when lilies, poppies, primrose, agave, and even the prickly barrel cactus, burst into color. Stretch your legs in the desert garden outside the visitor center, explore the brilliant Borrego Palm Canyon, or prepare to have your breath taken away by the Carrizo Badlands Overlook awash in lavender, lilies, and creosote. Check conditions before visiting: there may not be a major bloom this year due to dry conditions, but the western part of the park, especially Grapevine Canyon, may be your best bet, starting mid- to late-March.
The color continues north to nearby Joshua Tree National Park, where blooms send out their tender shoots as early as February at the lower elevations, and can keep blooming until April or even June higher up. In March, the southern Cottonwood Visitor Center is the place to go for striking displays of Arizona lupine's purple spikes, flowering ocotillo, and the hummingbird favorite, churparosa. In the northern reaches of the park, yucca, teddy bear cholla, and Joshua trees are just beginning their bloom. Look for these near the west entrance of the park, and along the Cholla Cactus Garden Nature Trail.
April is when the California poppy unfurls its deep orange petals in earnest. While found in nearly every corner of the state, there is no match for the plunging slopes of Big Sur when it comes to seeing California's most famous flower. March through May, Big Sur's grassland becomes a lush blanket of green, gold, and lavender (thanks to another favorite, lupine). Take the Soberanes Point and Calla Lilly Canyon trails at Garrapata State Park, just seven miles south of Carmel, to soak up the scenery.
If you're visiting the north coast, the quaint village of Mendocino is the perfect backdrop to the surrounding wildflower studded bluffs. The Mendocino Headlands State Park is just steps away from the town's wooden boardwalks, and is filled with poppies, lupine, seaside daisies, Mendocino paintbrush, and coastal buckwheat. It's also not a bad spot to witness migrating whales.
Wildflowers in Wine Country? You bet. The bucolic fields of the Sonoma Valley become even more beautiful when filled with poppies, lupine, forget-me-nots, buttercups, fuschia, Mariposa lilies, and yarrow. Just a stroll from Sonoma's historic plaza, the Sonoma Overlook Trail winds three miles through grass and oak woodland, and is the ideal spot for a wildflower-filled picnic.
Summer travelers need not despair. As California's grassland turns from green to gold, the wildflowers head for the hills. With its 1100-foot range in elevation, Yosemite is in bloom nearly all year round. Starting in March on the valley floor, find clover, pine violets, evening primrose, and dogwood. At higher elevations starting in May, look for snow plant, columbine, monkshood, shooting stars, and rein orchids. Up Tioga Pass around Tuolumne Meadows, the show starts in late June with lilies, paintbrush, mountain dandelion, red heather, and fireweed, and continues into July when the late bloomers of Alpine paintbrush, wallflower, and mountain monkeyflower get their chance.
Whether you plan a trip to the desert, to the coast, or to the mountains, as a first time visitor or seasoned native, the Golden State's wildflower displays are sure to dazzle you.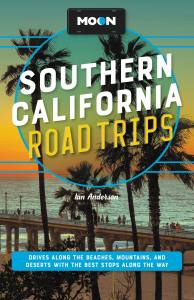 Hit the beach, hike hidden trails, or soak up some desert sun: the outdoor adventures are endless with Moon Southern California Road Trips.
Explore iconic San Francisco, stroll along foggy coastal cliffs, or climb the peaks of the Sierra Nevada: Answer the call of the open road with Moon Northern California Road Trips.
Pin For Later