The Best Oregon Coast Beaches for Surfing
Surfing is increasingly popular in Oregon, but it can be a little confusing to know where to go, especially if you're a novice. Spend a week dropping in on the following spots, selected with a special nod to places where a beginner can show up without feeling too out of place.
Before setting out on this surf vacation, invest in or rent a good wetsuit; that, along with strong swimming skills, will go a long way toward making this a fun trip rather than an ordeal. Don't skimp on the wetsuit accessories—a hood and booties are often the key to staying comfortable. Surf shops in Seaside, Cannon Beach, Pacific City, Lincoln City, and Newport can supply rental gear. Surf with a buddy, and be aware that sharks do occasionally show up at surf spots. A good website, www.oregonsurf.com, has some tips and links to forecasting sites and webcams.
Cannon Beach Area
Start off with a class. Oregon Surf Adventures (run out of the Seaside Surf Shop) and Northwest Women's Surf Camps both offer friendly, supportive instructors and fun programs.
Set up camp at Nehalem Bay State Park, then head a few miles north and spend the day practicing at Oswald West State Park's Short Sands Beach. More advanced surfers may want to check out the cove at Indian Beach, at the foot of Ecola State Park; this beach is also popular with surf kayakers. Seaside can be fiercely locals-only and is not the best choice for unaccompanied beginners.
Lincoln City to Newport
Another spot for surfers who know what they're doing is the Road's End State Recreation Area beach at the very north end of Lincoln City. Stop here for a while or continue south to the somewhat protected beach at Otter Rock, a few miles south of Depoe Bay. Otter Rock is quite popular, and it's a good place for beginners, although you'll need to be strong enough to schlep your board down (and back up) a long flight of steps to the beach.
In Newport, you can try Agate Beach (the parking is right next to the tall Best Western hotel) or head south of town to South Beach State Park.
Florence to Charleston
Pack up and head south, perhaps with a stop at Florence's South Jetty, to Charleston, where you can check out the waves at Bastendorff Beach County Park. There's also a nice campground at Bastendorff, as well as the large Sunset Beach State Park campground a few miles away. (Sunset Beach itself is mostly a swimming beach.)
Floras Lake
Head south of Bandon to the little town of Langlois, and turn in toward the ocean and Floras Lake, where you can take a break with a day of windsurfing or kiteboarding at Floras Lake. Lessons and equipment rentals are easy to come by here, and the wind is almost always ripping.
Port Orford to Brookings
It may be time to head back north, dropping in on your new favorite surf spots. But if you're headed all the way down the coast, pull off the highway at Port Orford to see if the surf is up at Battle Rock Beach. Otherwise, aim for Sporthaven Beach on the Brookings jetty south of the Chetco River, a popular all-levels surf beach.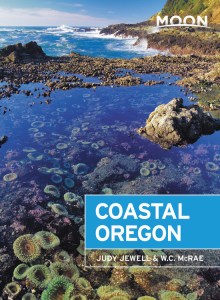 Observe mighty forces of nature, hike coastal cliffs, and savor a moment of solitude with Moon Coastal Oregon.

Pin it for Later