One Day in Acadia National Park
Soaring headlands, craggy granite shorelines, spruce-fringed islands, freshwater lakes and ponds, tidal estuaries, cozy harbors, and crashing surf: Acadia National Park has it all.
Hike trails that zigzag up mountains and wander along shorelines. Drive or bike Park Loop Road or the Schoodic Loop. Pedal, walk, or ride in a horse-drawn carriage on car-free paths. Paddle the park's freshwater lakes and ponds, along its shoreline, or through an estuary.
Acadia delivers everything one imagines and so much more. Despite its increasing popularity, it's still possible to slip away and find a Zen-like spot where all your questions will be answered.
Here's the best way to spend one day in Acadia National Park:
Morning
Rise early and welcome the day from the summit of Cadillac Mountain.
Descend to Bar Harbor for breakfast and pick up a picnic lunch to enjoy during your park explorations.
Head to the Hulls Cove Visitor Center, where you can consult with a ranger, view works from the park's Artist- in-Residence program, and purchase maps, books, and souvenirs.
Spend the rest of the morning driving the coast-hugging section of the Park Loop Road, stopping to take in the sights at Sieur de Monts Spring, including the Abbe Museum and Wild Gardens of Acadia, and wriggle your toes in the sands of Sand Beach. Find a spot to enjoy a picnic lunch.
Afternoon
Continue on the Park Loop Road to the carriage roads, where you can take a few hours to walk or pedal on these pleasant, car-free thoroughfares.
Refresh with tea and popovers on the lawn at the Jordan Pond House.
Evening
Loop around the island's quiet side to view the Seawall to see Bass Harbor Head Light.
While on the western side of the island, head over to Thurston's Lobster Pound in Bernard for a sunset dinner.
Travel Tips for Acadia National Park
• Acadia National Park is open year-round, but this itinerary can be experienced in full only during peak season. In late autumn, winter, and early spring, sections of the Park Loop Road are closed, as are many attractions.
• Vehicle reservations are required for the Cadillac Summit Road section of the Park Loop Road; make them online at www.recreation.gov.
• Bar Harbor Bicycle Shop rents mountain, road, and e-bikes.
•Check to see if the Jordan Pond House is taking reservations, as this can vary year to year.
• Sunrise and sunset times change daily and also are different depending on where you are in the park. Although Maine is in the eastern time zone, it's much farther east than the rest of the East Coast, so the sun rises earlier (4:45am-6am in summer) and sets earlier (7pm- 8:30pm in summer).
---
Feeling inspired? Start planning your getaway today.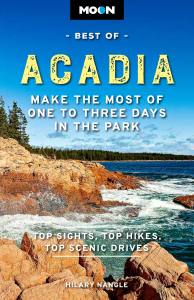 Whether you're visiting the park for a day hike or spending a long weekend under the stars, escape to the great outdoors with Moon Best of Acadia National Park.
Taking a longer trip? Get the comprehensive guide.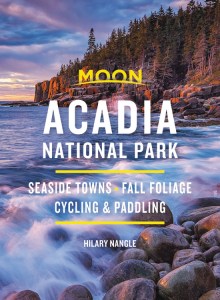 Explore the pine-lined mountain trails, serene ponds, and rugged island coasts of Maine's stunning Acadia National Park with Moon.