Best National Parks to Visit This Fall
While summer is undoubtedly the high season for national parks, consider a visit in autumn, when parks burst into color with fall foliage, temperatures are milder, and—in some cases—you'll encounter fewer crowds. Here are the national parks that shine in the fall.
New River Gorge National Park and Preserve
West Virginia
Designated as a national park in 2020, New River Gorge National Park and Preserve contains hillsides of oak and maple forests interspersed with sandstone cliffs and deep ravines, the largest of which is the V-shaped water-carved gorge of the New River. Once a travel corridor for Indigenous peoples, the river was subsequently used by explorers and coal miners before it became a destination for recreation. Today it is renowned for rafting and rock climbing.
Catch the last of paddling season, take a wheelchair-accessible boardwalk to see Sandstone Falls up close, or hop aboard the Autumn Colors Express (Thursday through Sunday late October, from $180), which offers full-day rail tours of the park during peak fall foliage season. You can also take the self-guided African American Heritage Tour, which visits three park locales and several surrounding areas, stopping at places that tell the story of Black coal miners, rail workers, and others who lived and worked in the local communities.
Great Smoky Mountains National Park
Tennessee and North Carolina
With a mix of natural wonders and historic charm, this national park straddling the North Carolina-Tennessee state line is the most visited national park in the country. On the wild, sparsely populated North Carolina side that was once the land of Cherokee people, the mountains pile up against one another with tall peaks, steep slopes, and deep coves. On the more developed Tennessee side, Cades Cove is a sightseer's delight, with wildlife wandering among its preserved historic churches, schools, and homesteads.
In autumn, hardwood trees splash color across mountainsides and valleys. Gold, red, and orange hues lure hikers and drivers for one of the most impressive displays in the eastern United States: Newfound Gap Road. Bisecting the park, this ridgetop route provides epic views of the Smokies, roadside stops, and autumn colors. You won't be the only one taking in this display, though: expect some traffic jams in fall.
Rocky Mountain National Park
Colorado
In Rocky Mountain National Park, rugged scenery is guaranteed. Meadows, forests, and lakes butt up against a backdrop of sheer cliffs and soaring peaks that dominate the Continental Divide. You'll find some of the highest summits in the Lower 48 and the highest paved road in the United States.
This park captivates all the senses in fall, when aspens change to bright gold, skies are blue, and the air resounds with elk bugles and bighorn rams banging horns. Hearing the eerie sounds of a 700-pound bull elk echoing through the autumn air is a quintessential Rocky Mountain experience.
Indiana Dunes National Park
Indiana
Designated in 2019, this unique national park with miles of sand dunes is worth a visit in fall, when hardwood trees turn brilliant colors. Indiana Dunes National Park flanks the southern shore of Lake Michigan and is home to multiple ecosystems: oak and pine forests, grassy prairies, marshes and wetlands, rivers, the lake, and four distinct sand dune complexes. Most of all, it's a bird-lover's paradise, filled with nesters and migratory fowl that frequent the Lake Michigan shoreline.
Leaf-peeping starts in late September, with colors usually hitting their prime in mid-October and fading through the end of the month. Catch the color in the maple and oak forests on the Calumet Dunes Trail and Dune Ridge Trail. The Glenwood Dunes trail system also yields outstanding fall colors.
Acadia National Park
Maine
The first national park east of the Mississippi River and the only national park in the northeastern United States, Acadia National Park sits on the rugged Maine coast south of Bangor. The park tops out at the pink granite of Cadillac Mountain, which is sacred to the Wabanaki peoples who have called this region home for thousands of years—as are the park's mountains, lakes, ponds, and tide pools.
Today, in spite of this park's popularity, it's possible to find peaceful niches and less trodden paths. September is a gem of a time to visit: few bugs, fewer people, less fog, and autumn's golden light. Foliage usually begins turning in early October, making it an especially beautiful time to visit (weekends spike with visitors). If you're not afraid of a little cold, plan your trip for late fall or early winter, when visitation is lower.
Yellowstone National Park
Wyoming
Tucked into the northwest corner of Wyoming, Yellowstone is perhaps best known for being America's first national park. Bears, elk, pronghorn, wolves, and bighorn sheep wander the landscape. Yellowstone is also home to the biggest remaining wild herds of bison in the country ("bison jams" are common on park roads), and several Indigenous groups partner with the park to manage the bison's numbers and preserve them.
Fall is an underrated time to experience the best of Yellowstone. In September through November, cooler days yield pleasant hiking with fewer crowds and dwindling services. Sporadic snowstorms can temporarily close park roads in early November, so October is the ideal time to visit for fall colors, bear activity, and elk bugling.
Cuyahoga Valley National Park
Ohio
Absorb nature with a slice of Midwest history in Cuyahoga Valley. This greenbelt in eastern Ohio is an easy day trip from either Cleveland or Akron and follows the twists and turns of the Cuyahoga River for 22 miles. In what remains of the Ohio and Erie Canal, the river provided a transportation route through the wilderness in the early 1800s. Its 15 locks aided boats going upstream and downstream, with an adjacent towpath giving the means to haul the boats.
The reds, golds, and oranges of fall usually hit their peak in mid-October, and temperatures can hit the low 70s with very cool nights. It's perfect weather to hop on a bike and cycle the Towpath Trail, soaking up historic sites and exhibits along the way. If you'd rather stretch your legs on an easy hike with lots of fall color, the trail to Brandywine Falls follows a boardwalk through a mossy hemlock forest and gorge to reach a viewing platform facing the falls.
Shenandoah National Park
Virginia
Only 70 miles west of Washington DC, this long, narrow park is home to Skyline Drive, hiking trails, and a hardwood forest that blazes with fall colors. May-October is peak season, but it's especially popular in autumn (September and October) when the leaves turn in a riot of color.
Follow Skyline Drive at a leisurely pace to enjoy the scenery, multiple overlooks, and spectacular fall colors, but expect long lines at entrance stations and slow traffic. Want to get outside and explore? Shenandoah is a hiker's paradise, with strenuous waterfall hikes like Dark Hollow Falls and the 9.4-mile trek up Old Rag Mountain, a rite of passage for many visitors.
Congaree National Park
South Carolina
Congaree sits smack in the middle of South Carolina, about a 30-minute drive south of Columbia, and contains the most ancient stands of old-growth cypress left in the world. Despite its relatively urban locale, this park is wild—swamps mean no roads, and you'll have to hike or paddle to see the old-growth forest.
September through November is a favorite time to visit—the air is crisp, and the foliage stunning. Autumn colors peak late October-early November. One of the best ways to enjoy these colors is on a ranger-led canoe tour (3 hrs, limited schedule, $70) with canoes, PFDs, and paddles provided. For a more accessible option, the 2.4-mile Boardwalk Loop offers an easy, flat trail through the old-growth forest, perfect for wheelchairs, strollers, and small kids.
Start planning your national parks adventure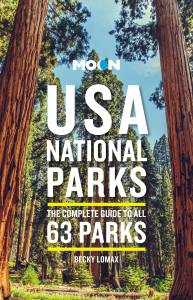 They've been dubbed America's best idea for a reason: get inspired, get outdoors, and discover the wild beauty of the United States with Moon USA National Parks.