Top 5 Boston Breweries and Taprooms
Sam Adams may be the official beer of the Boston Red Sox, but it's hardly the only one to define this city as a great destination for beer-lovers. On your next hop through Beantown, check out one of these 5 breweries and taprooms for a refreshing pint.
Harpoon Brewery and Beer Hall
306 Northern Ave., 617-456-2322; Sun.-Wed. 11am-7pm, Thurs.-Sat. 11am-11pm
Since opening their European-style beer hall in 2013, this Seaport brewery has quickly become a local craft favorite. Head to the industrial edge of the neighborhood for a guided tour as well as samples of all that Harpoon produces. The beer hall has 20 Harpoon brews on tap and features homemade pretzels and dipping sauces to pair with its lineup of IPAs and seasonal offerings. They also have an awesome Keg Yard that's open in the summer, with lawn games and movie nights.
Tip Tap Room
138 Cambridge Street, 857-350-3344; Mon.-Fri. 11:30am-2am, Sat.-Sun. 10:30am-2am
If you wander far enough over the incline, you'll find one of Boston's top craft beer bars on the back side of Beacon Hill. Tip Tap Room features more than 35 rotating beers on draught, ranging from sour to fruity to local IPAs. For the hungry, chef Brian Poe offers a variety of "tips" like chicken, beef, and tofu to go with whatever you order on "tap." Weekends are usually packed at the bar, so grab a seat early!
Five Horses
535 Columbus Ave., 617-936-3930; Mon.-Fri. 11:30am-midnight, Sat.-Sun. 10am-midnight
Come for tater tots and blink-and-you'll-miss-it rotating pizzas (the Foghorn Leghorn's fried chicken on a pie is a favorite) but stick around for the expansive bar and over 40 brews on tap. Perfect for any craft beer snob, Five Horses and its pint masters will dissect the menu with you and serve up just what you wanted—or have maybe been too scared to try.
Lord Hobo
92 Hampshire St., Cambridge, 617-250-8454; Mon.-Wed. 4pm-1am, Thurs.-Fri. 4pm-2am, Sat. 11am-2am, Sun. 11am-1am
While Cambridge isn't *technically* Boston, they're often lumped in together, and it definitely has a nightlife and beer scene of its own. This spot looks like a squat biker bar from Miami Vice on the outside, but behind the door is a bustling craft beer emporium that draws a blend of hipsters and Cambridge computer geeks. Not only does it produce its own house beer, but Lord Hobo also features 40 taps ranging from domestic classics to European extravagances.
Miracle of Science Bar & Grill
321 Massachusetts Ave., Cambridge, 617-868-2866; daily 11am-1am
Miracle of Science Bar & Grill is another Cambridge institution that's well worth a shout-out. The food menu here is designed after the periodic table, a nod to the brainiacs using said guide for classes at nearby MIT. You're likely to find a packed crowd of students vying for a variety of beers on draft and debating current events. Grab a pint, and do the same!
Honorable Mention:
Sam Adams Brewery
30 Germania Street, Boston, 617-368-5080; Mon.-Thurs. 10am-6pm, Fri. 10am-6:30pm, Sat. 10am-4pm, closed Sun., suggested $2 donation, 21+ only
You didn't think we'd leave you hanging, did you Sam? The Sam Adams name belongs to more than just a Founding Father in these parts. Named in honor of the legendary statesman, Sam Adams is the quintessential Boston brew. Its test brewery in Jamaica Plain offers free tours to visitors interested in the backstory of one of America's largest craft brewers. Taste malts, smell the specialty hops used to make Boston Lager, and, yes, even sample the Sam Adams lineup of brews—even a few not seen on menus quite yet. Only guests 21 and older are allowed, so don't forget your ID. Save room for lunch at the nearby Doyle's Cafe, which was the first restaurant to offer Sam Adams on tap.
---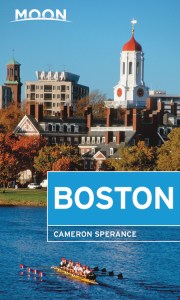 Catch a game at Fenway, watch the rowboats on the Charles, or snag a seat at the bar at the Neptune Oyster: Experience the best of Beantown with Moon Travel Guides.



What to Read Next
---
Pin it for Later