The Day Tripper's Guide to Provincetown, MA
For adventurous visitors to Boston, the end of the world is only a 90-minute fast ferry ride from downtown cruise ports. Provincetown, Massachusetts (P-town) is the outermost point on Cape Cod and an eclectic haven many locals boast as "the last stop on Earth." The town may look like a quaint retreat at first as you stroll down the main thoroughfare of Commercial Street, but it is arguably the most popular LGBT summer destination in the world. Travelers head to P-town for themed weeks throughout the summer ranging from "Bear Week" in July to the costume-laden Carnival in August. But travelers with less time can still make it to the Outer Cape; P-town can be done in a day.
Start your day early to make the morning ferry from downtown Boston. Boston Harbor Cruises offers a 9am ferry from Long Wharf, while Bay State Cruise Company features an 8:30am ferry from its port of call at the World Trade Center in the Seaport. No matter the ferry, try and get a spot on-deck to enjoy the sights of the Boston Harbor Islands and Cape Cod Bay en route to your destination. When you see a faint tower on the horizon, you'll know you're getting close—the Pilgrim Monument, a 252-foot granite tower, commemorates that the Pilgrims first made landfall in Provincetown before making their way to Plymouth.
When you dock at Provincetown Harbor, rent a bike from Arnold's Where You Rent Bikes. The shop is close to MacMillan Pier and can get you quickly pedaling your way to the beach. Once you've procured a set of wheels, make your way down Commercial Street for breakfast on-the-go at Pop+Dutch, a small general store in P-town's West End that proudly boasts its versatility of goods: "Sandwiches. Salads. Lube."
Grab one of the store's breakfast sandwiches, pimiento cheese biscuits, and iced coffee and take your meal to Race Point Beach. Frequently named one of the most beautiful beaches in America, Race Point is on the Atlantic Ocean side of P-town and is a great spot to start your trip with some rays and unobstructed views of the water. Hike to the Race Point Lighthouse, stroll the dunes, or just relax for a few hours with a book. For those looking for a beach closer to town, try Herring Cove, a popular spot that attracts everyone from families to nude (typically gay male) sunbathers, who usually stick to baring it all in an area furthest away from the entrance.
After a couple of hours, make your way back into town for lunch at The Canteen. What seems like a counter-serve hole-in-the-wall on Commercial Street also features one of the town's largest al fresco bars for a frozen rosé to wash down lunch. Order a lobster roll and crispy Brussels sprouts, make your way to the waterfront garden behind the restaurant, and kill an hour with lunch and a frosé. Or three. You're on vacation, after all.
Use your full stomach and afternoon buzz to indulge in some retail therapy. Commercial Street features a variety of clothing boutiques, home furnishing stores, and art galleries that can do some serious damage to your wallet. Cortile Gallery, near The Canteen, features the work of numerous local artists, several of whom work out of a nearby studio that is also open for visitors. Item, a men's clothing store on Commercial, is the source of many of the dapper button-down shirts you'll likely spot around town. The Provincetown Bookshop is a good stop to pick up works by Tennessee Williams, Norman Mailer, Michael Cunningham, and the litany of other scribes who have called Provincetown home.
When late afternoon strikes, P-town likes to party. Head to the Boatslip Resort for Tea Dance, a daily round of bacchanalia on the back deck of one of the town's most popular hotels. While tea itself is hard to come by, visitors are sure to find boozy beverages, including the highly potent Planter's Punch, and blaring speakers beckoning everyone to the jam-packed dance floor.
Don't get too many cocktails at Tea or too distracted by a killer Madonna remix, as the last ferries typically leave between 7:30pm and 8:30pm. But if you do miss the boat, don't fret: the party goes late in P-town at places like Atlantic House, believed to be the country's oldest continuously-operating gay bar. Many bed and breakfasts and inns like The Red Inn and The Provincetown Inn are popular places for last-minute travelers, or you could just make a friend on the dance floor.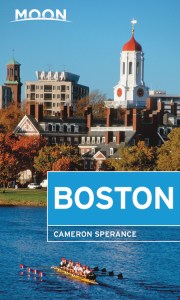 Stroll through history, catch a game at Fenway, or snag a seat at a famous oyster bar: the best of Beantown is yours with Moon Boston.