Fishing, crabbing, clamming, and mussel-gathering isn't just fun—it will fill your dinner plate, too. There's plenty for foragers to eat along the Oregon coast, if you know where to look for it.
All crabbers and clam diggers need a shellfish license, available at pretty much anyplace that rents crab traps ($7 resident, $20.50 out of state, $11.50 for a three-day nonresident license).
Clamming is best during a "minus" tide, when more beach is exposed. Equipment consists of a shovel, a bucket, and—ideally—rubber boots. It's also helpful to have a dowel or stick to use as a probe and clam-marker. Look for the clam holes, and dig toward the ocean side.
Pay attention to the signs at the entrance to the beach—they may be telling you about health precautions. Occasionally shellfish toxins mandate the closure of certain areas. These higher levels of bacteria and toxins are most likely to occur during the summer, and they are carefully monitored by the Oregon Department of Agriculture.
Astoria
The mother of all salmon rivers is the Columbia. While Astoria was once one of the world's top fishing ports, precipitous declines in salmon runs have spelled doom for its abundant salmon-packaging plants. However, there is seasonal sportfishing for most salmon runs, and tuna, halibut, and bottom-fish harvesting is strong; plenty of charter fishing operations are ready to take you out to where the big ones are biting.
Garibaldi
Garibaldi is a scrappy little fishing village on Tillamook Bay, where you'll have no trouble joining a charter boat heading out for whatever's in season. Crabbing is also a high point, as are local oysters, found at the Pacific Oyster processing plant at nearby Bay City, where you can forgo foraging and just buy and eat your seafood while watching shuckers tackle a mountain of bivalves.
Newport
Oregon's second-largest fishing fleet departs from Newport, and the bay front here is a wonderful spot to plan a fishing or whale-watching trip. Down at the bay, right in the midst of barking seals and salt spray, you can buy fish directly off the boat. If you're not up for cooking, the fish is equally fresh at most of the harborside restaurants.
Cape Perpetua
The black-shelled bivalves that coat the rocks and tidepools here are particularly good eating. Harvesting wild mussels along the rugged Cape Perpetua shores is easy. Bring a pot, a bottle of white wine, and some garlic. Light a campfire, and you've got a meal. Before you harvest, be sure to look for signs warning of toxic algae blooms and dangerous levels of bacteria, , particularly in hot summer weather.
Winchester Bay
Just south of Reedsport, the tiny town of Winchester Bay is almost entirely given over to fishing. Along with a busy commercial fishing port, there are many charter operators here who will take you out to the ocean for salmon, halibut, tuna, or bottom fish. Even if you aren't fishing, stop for a meal at one of the dockside restaurants or pick up some excellent canned tuna at the dockside cannery.
Charleston
Charleston is so thoroughly pervaded with seafood that even an angler's grudging spouse will get caught up in the excitement. Don't like fishing charters, or want to forage on the cheap? No problem: Get to crabbing and clamming instead. Local shops here rent gear; you can crab right off the pier and clam on the beaches at Charleston or on Coos Bay's North Spit.
Bandon
In Bandon, stop at the bait store at the Old Town docks to pick up some crab traps, then go toss them over the side of the dock. Hang around and check the traps every so often—if you bring in a haul and don't want to fuss with the cooking and cleaning, ask the bait store to prepare them.
Rogue River
Anglers will want to stay a couple of days in Gold Beach, either in town or up the Rogue River. Spring chinook salmon, fall king salmon, silver salmon, summer and winter steelhead—all these runs are of legendary proportion. It's best to go with a guide in a boat, and just about every local you'll meet is a guide.
Chetco River
Although it's not as well known as the Rogue, the Chetco River upstream from Brookings is also good for late fall and winter salmon and steelhead fishing. Mostly, though, Brookings is a good place to take a charter out into the ocean to fish for salmon and bottom fish.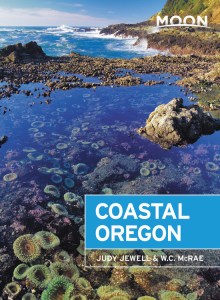 Observe mighty forces of nature, hike coastal cliffs, and savor a moment of solitude with Moon Coastal Oregon.

Pin it for Later