Ecuador & the Galápagos Islands
These free, printable travel maps of Ecuador & the Galápagos Islands are divided into eight regions:
Explore Ecuador with these helpful travel maps. Ensure you have the newest travel maps from Moon by ordering the most recent edition of our travel guides to Ecuador and the Galápagos Islands.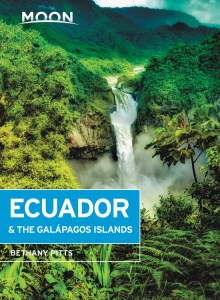 Trek through the Amazon, explore the bustling capital of Quito, snorkel in the Galápagos, or kick back on the coast: Embark on an unforgettable adventure with Moon Ecuador & the Galápagos Islands.



---
Travel Maps of Ecuador
---
Quito
Ecuador's capital has scenery as breathtaking as its elevation of nearly 2,850 meters. The second-highest capital in the world is also one of Latin America's best-preserved colonial cities, with beautiful churches, plazas, and museums as well as dramatic views from the surrounding hills.
---
Northern Sierra
The hills north of Quito contain much for hikers and shoppers alike. The thriving indigenous communities ply their wares in the colorful markets of Otavalo and Cotacachi, while the surrounding hills and mountains offer excellent trekking opportunities.
---
Central Sierra
South of Quito, the spectacular Avenue of the Volcanoes contains eight of Ecuador's 10 highest peaks, including Cotopaxi and Chimborazo. Just as spectacular are the shimmering turquoise waters of Lake Quilotoa and the hikes around it on the surrounding loop trail.
---
Southern Sierra
This region's relative isolation makes for a delightful step back in time. The colonial center of Cuenca rivals Quito for its churches, plazas, and museums but has a pace as gentle as its people. Ingapirca is Ecuador's best set of Inca ruins, and Cajas National Park is one of the country's most rugged hiking spots.
---
The Oriente
Whether you want to canoe through flooded rainforests, hike at night to tarantula holes, go bird-watching from the top of the rainforest canopy, or stay with indigenous people, the Ecuadorian rainforest offers unforgettable experiences and is more accessible than in neighboring countries.
---
North and Central Coasts and Lowlands
Resorts such as Atacames fill up with partyers pin high season, while surfers opt for quieter spots like Mompiche, which also has the region's newest luxury hotel. The most popular backpacker resort is surfer hangout Canoa farther south.
---
Guayaquil and the Southern Coast
Ecuador's biggest city has a beautiful riverside malecón, a regenerated center, and excellent nightlife. West of the city, the gleaming high-rises and beaches of the Santa Elena Peninsula attract more affluent visitors, while backpackers and surfers head north to Montañita.
---
The Galápagos Islands
The unique ecosystem of the archipelago that fascinated Charles Darwin, inspiring his monumental theory of evolution, is one of the world's natural treasures. Where else can you snorkel with sea lion pups and marine turtles, sunbathe with iguanas, or scuba dive with whale sharks?