These free, printable travel maps of Bermuda are divided into six regions:
Explore Bermuda with these helpful travel maps. Ensure you have the newest travel maps from Moon by ordering the most recent edition of our travel guides to Bermuda.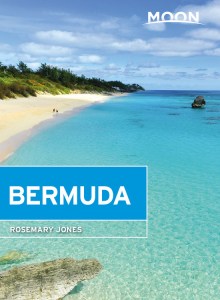 Impossibly turquoise bays, pink sands, and hibiscus-scented breezes: go with the flow and experience a fantasy come to life.
---
Travel Maps of Bermuda
---
City of Hamilton and Pembroke Parish
Whether you foray into "Town" for shopping, restaurants, or nightclubs, or use the capital (since 1815) as a base from which to explore the rest of the island, the city and its environs are a logical place to start a tour of the parishes. Hamilton currently has no hotels, but Pembroke has several excellent options offering access to the city and bus and ferry terminals.
---
Devonshire and Paget Parishes
Deep country is found in Devonshire, with old estates, farmland, and seaside communities. Paget offers suburban attractions such as golf, tennis, and top-notch restaurants. Resorts and guesthouses abound in Paget, while colorful local eateries, churches, and nature reserves enhance Devonshire's allure.
---
Warwick and Southampton Parishes
Beach bums beware: You might never leave the pink-sand confines of these western parishes. This is the realm of scuba, water sports, horseback riding, and snorkeling, not to mention tennis, golf, and pampering spas at several major resorts.
---
Sandys Parish
The historic military gems of the fortified Royal Naval Dockyard, including the National Museum of Bermuda, are the biggest collective magnet drawing visitors to the West End. This outer parish has a quaint, countrified character that invites gentle exploration. Somerset Village and its surroundings provide rural lanes to meander, plus shops, restaurants, and water sports. Deep-sea fishing boats are also based in this parish.
---
Smith's and Hamilton Parishes
Packed with attractions, Smith's Parish and Hamilton Parish—the latter not to be confused with the capital city—offer plenty to see, plus pretty pathways to the East End.
---
St. George's Parish
A UNESCO World Heritage Site, the 400-year-old Town of St. George and its related forts in the East End appeal to history lovers. The parish incorporates the island's first capital, along with the airport, the island of St. David's, and outlying regions like Ferry Point National Park. Built by English settlers, St. George's boasts winding streets, many landmarks, a public square, and a yacht-laden waterfront.