RV Road Tripping: Best Scenic Drives in the USA
Taking an RV out on the open road is transformative. There's simply no experience like it. Instead of the narrow confines of hotel rooms, your lodging is wherever you park it. Step out your door and immediately connect with your destination. Of course, the best part of a road trip is the journey. USA RV Adventures authors Bonnie and Grant Sinclair have narrowed down some of the best scenic drives to take in an RV.
Overseas Highway (U.S. 1)
Roll down the windows and let the salty sea breeze wash over you on this 113-mile (182-km) highway that stretches through the Florida Keys from Miami to Key West.
Beartooth Highway (U.S. 212)
Find out why Charles Kuralt called this "the most beautiful roadway in America" as you drive 68 miles (109km) from Red Lodge, Montana to  SilverGate, Montana, near Yellowstone National Park's northeast entrance. You'll reach an elevation of 10,947 feet (3,337 m) as you travel through the Absaroka-Beartooth Wilderness.
Blue Ridge Parkway
Enjoy crisp mountain air as you travel 469 miles (754 km) through the Appalachians between Great Smoky Mountains National Park and Shenandoah National Park, with a seemingly endless stretch of scenic overlooks and a wide variety of geological features and biodiversity.
Badlands Scenic Loop (Hwy. 240)
Be sure to stop at any or all of the 16 scenic overlooks as you drive this 38-mile (61-km) loop through Badlands National Park, South Dakota where striped mounds and buttes display the geological forces that shaped this rugged landscape.
Trail Ridge Road (U.S. 34)
With 11 miles (18 km) of the road above the tree line, you'll have clear views of evergreen forests and mountain vistas as you cross Rocky Mountain National Park between Estes Park and Grand Lake, Colorado.
Going-to-the-Sun Road
This 50-mile (80.5-km) scenic drive takes you across Glacier National Park in Montana, with views of towering mountains, idyllic valleys, and roadside waterfalls and glaciers. The high point of the drive is Logan Pass (6,646 ft/2,026m), where you'll often spot mountain goats and bighorn sheep. East of Logan Pass, keep your eyes open for grizzly bears.
Richardson Highway (Hwy. 4)
The 115-mile (185-km) stretch of this highway from Glenallen to Valdez, Alaska, offers an endless supply of breathtaking views, including the Wrangell Mountains, Worthington Glacier, Blueberry Lake, and Keystone Canyon.
Start planning your adventure today!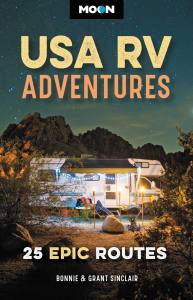 From scenic drives and epic hikes to tranquil campground stops, make your home on the road with Moon USA RV Adventures.