What to See in Coyhaique, Chile
Originally known as Baquedano, today's regional capital was once so obscure that letters addressed here could end up in an eponymous Atacama Desert rail junction. After a decade of confusion following its 1929 founding, its name became Coyhaique, but it did not become the provincial capital until it succeeded Puerto Aisén in 1973.
Founded as a service center for the Sociedad Industrial Aisén, its growth spurred by the colonists who flooded the region in its wake, Coyhaique is a mostly modern city whose infrastructure hasn't quite matched its growth. In heavy rain, streets drain poorly and the flow of water is so broad that city workers place temporary pedestrian bridges across the gutters. Improvements include a redesigned Plaza de Armas and conversion of congested Calle Horn into a pedestrian mall that's become a popular gathering place.
Visitors to Coyhaique have a variety of activities to choose from. Still the region's only true city, Coyhaique has a complete array of services, including fine restaurants, pubs, and travel agencies. The virtual midpoint of the Carretera Austral, it also offers an alternative route into Argentina.
Sights
Nearly all first-time visitors to the disorienting Plaza de Armas, where 10 streets radiate like spokes from a hub, get lost returning to their accommodations. Bewildered walkers can blame police officer Luis Marchant González, who in 1929 chose the Carabineros' five-sided badge as a city-planning template. The plaza boasts trees and fountains.
Three blocks east, the Centro Cultural Coyhaique (Eusebio Lillo 23, tel. 067/221-1596) hosts a variety of activities, including art exhibits, cinema, and live music. Guided tours are available on request.
On the Baquedano median strip, the Monumento al Ovejero commemorates pioneer sheep farmers. The series of statues consists of a mounted shepherd, his flock, and his dogs. There are fine views of the Río Coyhaique valley from the Plaza Mirador Río Coyhaique, at the east end of Condell.
Vicinity Of Coyhaique
Coyhaique is an ideal base for activities like hiking, fly-fishing, rafting, and even winter skiing. Fishing probably tops the list, as the season runs November to May in the numerous lakes and rivers. For day trips, Luis Miranda's Patagone Travelling (tel. 09/4207-1314) offers horseback rides and a float trip that, in its latter stages, becomes Class III white water.
U.S.-run, Puerto Bertrand-based Patagonia Adventure Expeditions (Casilla 8, Cochrane, tel. 09/8182-0608) offers extended fishing and backcountry trips; U.S.-Chilean Salvaje Corazón (Casilla 311, tel. 067/221-1488; U.S. tel. 0415/990-7748) is a reliable operator that can handle English, Hebrew, Portuguese, and some French.
Geoturismo Patagonia (21 de Mayo 398, tel. 067/258-3173) helps organize driving tours of the Carretera Austral with its own vehicles and 24-hour logistical support in case of problems on this still-challenging route.
Reserva Nacional Coyhaique
Few cities anywhere have so much wild country so nearby as the mountainous 2,676-hectare Reserva Nacional Coyhaique, with its top-of-the-world views of Coyhaique, Cerro Macay, and Cerro Castillo to the south; the Río Simpson Valley to the west; and the Patagonian plains sprawling eastward. Local residents enjoy weekend picnics and barbecues here, only five kilometers north of town. There's always space away from the crowds, and on weekdays it's almost empty.
Elevation ranges from 400 meters to 1,361 meters on Cerro Cinchao's summit. More than 1,000 millimeters of rain and snow fall throughout the year. Summers are mild and fairly dry, with an average temperature of 12°C.
While the reserve is wild and almost undeveloped, it's not exactly pristine. Forests of coigüe (Nothofagus betuloides) and lenga (Nothofagus pumilio) blanket the hillsides, but plantations of exotic pines and larches—some of them now being removed—replaced some of the native forest devastated in the 1940s. So close to the city, birds are the most conspicuous wildlife.
The main sights are literally that—the seemingly infinite panoramas in every direction. Several trails offer different perspectives on those panoramas: the 800-meter Sendero Laguna Verde, the four-kilometer Sendero Laguna Venus, and the Sendero Las Piedras, which leads to Cerro Cinchao's summit.
Most visitors stay in town, but Conaf (tel. 067/221-2125 in Coyhaique, camping US$7 for up to six people) has a rustic 6-site campground at Laguna Verde and a 10-siter at Casa Bruja. Two of the Laguna Verde sites have roofed shelters. All sites have picnic tables, potable water, and fire pits. Casa Bruja has toilets and hot showers. Bring as much food as necessary. At the entrance, Conaf collects an admission charge (US$4.50 adults, US$2 children).
Three kilometers north of town via the paved highway to Puerto Chacabuco, a dirt lateral road climbs steeply east to the reserve. The road is passable for most vehicles in summer but can be difficult with rain. It's close enough to the city that anyone in decent physical condition should be able to hike from the highway to the park entrance in about half an hour.
Reserva Nacional Río Simpson
Northwest of Coyhaique, midway to Puerto Chacabuco, paved Ruta 240 passes through the Río Simpson Valley, flanked by the steep walls and canyons that form the accessible 41,634-hectare Reserva Nacional Río Simpson.
Elevations are about 100 meters along the river but rise to 1,878 meters in the cordillera. Because it's mostly lower than Reserva Nacional Coyhaique, the weather is milder (15-17°C in summer). It's also wetter, as westerly storms drop up to 2,500 millimeters of precipitation en route inland.
As at Coyhaique, Río Simpson's forests are mostly native southern beeches (Nothofagus species). The rainfall fosters verdant undergrowth of ferns, fuchsias, and the like. Huemul are found in the more remote areas, as are puma and pudú. Bird species, which include the Andean condor, diminish in autumn and winter, returning in spring.
At Km 37, look for the Cascada La Virgen, a waterfall that plunges vertically through intense greenery on the highway's north side. Two kilometers east of park headquarters, Conaf's eight-site Camping San Sebastián (Ruta 240, Km 30, US$11 per tent) has baths with hot showers.
Conaf's Centro de Información Ambiental (Ruta 240, Km 32) boasts a small natural-history museum (8:30am-5:30pm daily, US$4.50 adults, US$2 children) and botanical garden. From Coyhaique, Suray buses will drop passengers at the campground, museum, or anywhere along the route.
Puerto Chacabuco and Vicinity
The forests that thrived here before the 1940s wildfires were more than just landscape embellishments. Their foliage softened the impact of heavy storms and impeded soil erosion. One effect of the fire-fed devastation was to clog Puerto Aisén's harbor with Río Simpson's sediments, forcing authorities to build new port facilities at Puerto Chacabuco, 14 kilometers west.
Now the region's main maritime gateway, Chacabuco is also the departure point for excursions to Parque Nacional Laguna San Rafael and a stopover on some voyages between Puerto Montt and Laguna San Rafael.
---
Related Travel Guides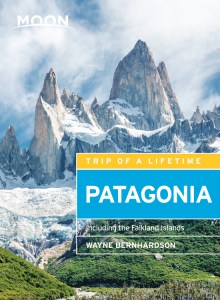 Patagonia's staggering landscapes, titanic glaciers, and rugged mountains evoke mystery and inspire self-discovery.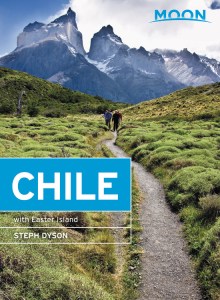 Snow-covered mountains, bustling cities, temperate rainforests, and coastal wineries: get to know this country of contrasts with Moon Chile.
What to read next: