Visiting Cape Kiwanda in Pacific City
As you make your way to Cape Kiwanda and approach the shore in Pacific City, the sight of Haystack Rock will immediately grab your attention. At 327 feet, this sea stack is nearly 100 feet taller than the similarly named rock in Cannon Beach. Standing a mile offshore, this monolith has a brooding, enigmatic quality that constantly draws the eye. Look closely, and you'll understand why some folks call it Teacup Rock.
The tawny sandstone escarpment of Cape Kiwanda juts half a mile out to sea from Pacific City and frames the north end of the beach. In storm-tossed waters, this cape is the undisputed king, if you go by coffee table books and calendar photos. While other sandstone promontories on the north coast have been ground into sandy beaches by the pounding surf, it's been theorized that Kiwanda has endured thanks to the buffer of Haystack Rock. In any case, hang gliding aficionados are glad the cape is here. They scale its shoulders and set themselves aloft off the north face to glide above the beach and dunes.
The small town of Pacific City, with about 1,000 residents, is at the base of Cape Kiwanda. It attracts growing numbers of vacationers and retirees, but remains true to its 19th-century origins as a working fishing village. In addition to the knockout seascapes and recreation, if you come here at the right time of day, you may be treated to a unique spectacle—the launch or return of the dory fleet.
It's a tradition dating back to the 1920s, when gillnetting was banned on the Nestucca River to protect the dwindling salmon runs. To retain their livelihood, commercial fishers began to haul flat-bottomed double-ended dories down to the beach on horse-drawn wagons, then row out through the surf to fish. These days, trucks and trailers get the boats to and from the beach, and outboard motors have replaced oar power, enabling the dories to get 50 miles out to sea. If you come around 6am, you can watch them taking off. The fleet's late-afternoon return attracts a crowd that arrives to see the dory operators skidding their craft as far as possible up the beach to the waiting boat trailers. Others meet the dories to buy salmon and tuna.
In mid-July, Dory Days celebrate the area's fleet. The three-day fete includes craft and food booths, a pancake breakfast, a fishing derby, and other activities. For more information, call the chamber of commerce (503/965-6161). If you want to join the anglers for a summertime ocean fishing trip on a dory, contact Haystack Fishing (888/965-7555), across from the beach near the Inn at Cape Kiwanda. Four- to six-hour salmon and bottom fishing trips start at $200 per person.
In addition, the Pacific City area is besieged by surfers, who enjoy some of the longest waves on the Oregon coast. Robert Straub State Park, just south of town, offers access to Nestucca Bay and to the dunes and a long uninterrupted stretch of beach. Pacific City surfers should use extreme caution when the dories are returning to the beach.
Accommodations
The nicest motel on the Three Capes Scenic Loop is the large Inn at Cape Kiwanda (33105 Cape Kiwanda Dr., 503/965-6366 or 888/965-7001, $269-329). All rooms face a beautiful beach and Cape Kiwanda's giant sand dune. If it's too rainy to go outside, fireplaces and spacious well-appointed rooms make for great storm-watching. Whirlpool tub rooms are available, and pets are permitted in some rooms.
Camping
About 4.5 miles north of Pacific City on the Three Capes Loop Road, the Clay Meyers Natural Area at Whalen Island (4.5 miles north of Pacific City on Sandlake Rd., 503/965-6085, $10-15) has a small campground run by Tillamook County. It's an open sandy spot with a boat launch and flush toilets; nearby hiking trails traverse wetlands and provide a great look at the coastal Sand Lake Estuary.
Restaurants
A popular and well-known Pacific City hangout is the Pelican Pub and Brewery (33180 Cape Kiwanda Dr., 503/965-7007, 8am-10am Sun.-Thurs., 8am-11pm Fri.-Sat., $6-23). Set in a most enviable spot right on the beach opposite Cape Kiwanda and Haystack Rock, this place boasts the best coastal view of any brewpub in Oregon. Buttermilk-beer pancakes, dory-caught fish-and-chips, pizzas, "shark bites," tasty chili, and IPA-poached salmon are some of the standouts. The pub's brews, including Tsunami Stout, Doryman's Dark Ale, India Pelican Ale, and MacPelican's Scottish Style Ale, have garnered stacks of awards.
Delicate Palate Bistro (35280 Brooten Rd., 503/965-6464, 5pm–close Wed.-Sun., $28-36) is a classy little place where the chef brings a deft touch to classics—think pan-seared wild salmon with artichoke ragout or bouillabaisse made with a coconut curry broth and served with soba noodles—and the meals are backed up by an excellent wine list (or a long martini menu, if you prefer). The deck, which overlooks the local airstrip, is open for dining when weather allows.
Also on Brooten Road toward the north end of town, find the Grateful Bread Bakery (34085 Brooten Rd., 503/965-7337, 8am-9pm Thurs.-Mon., dinners $15-21), where the challah bread, carrot cake, marionberry strudel, and other homemade baked goods deserve special mention. The breakfast and lunch menu ($9-13) offers a range of tasty pancakes, scrambles and omelets served with oven-roasted spuds at great prices. Lunch sandwiches, quesadillas and rice bowls include a wide range of vegetarian options. This well-loved bakery just started serving dinner as well, when you'll find dory-caught blackened rockfish with fresh fruit salsa, shrimp with spicy peppers, and sirloin steak with horseradish rosemary butter.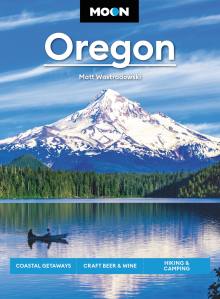 Stunning coastline, quirky towns, and a breathtaking array of natural wonders: Experience the best of the Beaver State with Moon Oregon.
Pin it for Later