Holidays and Festivals in El Salvador
Salvadorans are festive folk and celebrate a number of holidays during the year. Depending on how you feel about crowds, you might want to plan your travels to coincide with holidays and festivals or to avoid them.
For a moderate taste of Salvadoran party culture, you should try to make it to at least one of the fiestas patronales. These parties last several days and celebrate each town's patron saint. They are generally religious in nature and involve special masses and processions as well as carnival rides, beauty contests, live music, and general levity.
Las Bolas de Fuego (Balls of Fire) happens on August 31 every year in Nejapa, a small municipality just north of San Salvador, and is considered one of the best and craziest festivals in El Salvador. The public gathers along both sides of the main street and watches as the people of Nejapa hurl flaming kerosene-soaked rag balls at each other for a couple of hours. The tradition is more than 100 years old and commemorates the eruption of the volcano El Playón in November 1658, when incandescent balls of fire flew into the air. Paramedics and police are on-site in case of injuries and fires, and after the show, a raging party ensues. Yes, this really happens. If you want to check it out, ask at your hotel to arrange transportation with a guide; it's too complicated to get there and back on your own.
Día de Independencia (Independence Day) celebrates independence from the Spanish and is observed annually on September 15. It is a national holiday celebrated with parades, fireworks, and, of course, lots of food.
For a more debauched holiday, the Carnaval de San Miguel tops the list with a weeklong party the last week of November that includes live music, heavy drinking, and dancing. Santa Ana's Fiestas Julias celebrate patron saint Santa Ana and take place during the last week of July. Events include carnivals, sporting events, live music, rodeos, parades, and masses.
Semana Santa is the week leading up Easter and is when you want to go or stay away from the beach depending on your mood. It seems as if the entire country migrates to the coast to drown themselves in ceviche and cerveza for the duration of the week. Finally, San Salvador celebrates its patron saint, the Divine Savior of the World (a.k.a. Jesus Christ) during the Fiestas Agostinas in the first week of August. Although the holiday is religious in nature, many Salvadorans take this time as their annual vacation, and many businesses shut down for the week. Again, the beaches get crowded, and there's live music accompanied by heavy drinking, while parties take place throughout the capital.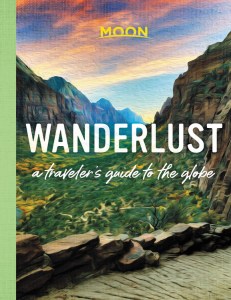 Dream, discover, and uncover your next great adventure. Moon Travel Guides takes you on a journey around the world with Wanderlust: A Traveler's Guide to the Globe.
Pin it for Later