Guerneville, California's LGBT Resort Town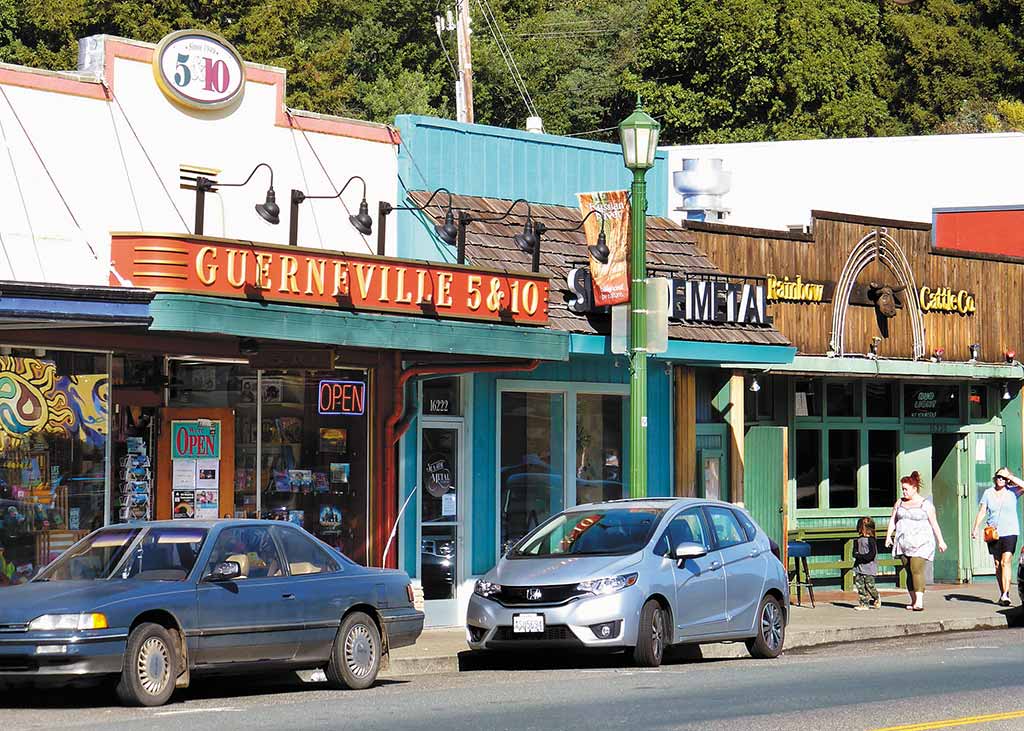 There are a number of wineries in the Guerneville area, but most people come here to float, canoe, or kayak the gorgeous Russian River that winds from Healdsburg all the way to the Pacific Ocean at Jenner. In addition to its busy summertime tourist trade, Guerneville is also a very popular gay and lesbian resort area. The rainbow flag flies proudly here, and the friendly community welcomes all.
Russian River
Guerneville and its surrounding forest are the center for fun on the river. In summer the water is usually warm and dotted with folks swimming, canoeing, or simply floating tubes serenely downriver amid forested riverbanks. Burke's Canoe Trips (8600 River Rd., Forestville, 707/887-1222, Memorial Day-mid-Oct., $65) rents canoes and kayaks on the Russian River. The put-in is at Burke's beach in Forestville; paddlers then canoe downriver 10 miles to Guerneville, where a courtesy shuttle picks them up. Burkes also offers overnight campsites for tents, trailers, and RVs.
On the north bank, Johnsons Beach & Resort (16241 1st St., Guerneville, 707/869-2022, 10am-6pm daily May-Oct., $35) rents canoes, kayaks, pedal boats, and inner tubes for floating the river. There is a safe kid-friendly section of the riverbank that is roped off for small children; parents and beachcombers can rent beach chairs and umbrellas for use on the small beach. The boathouse sells beer and snacks.
Fly fishers can cast their lines nearby off Wohler Bridge (9765 Wohler Rd., Forestville) and Steelhead Beach (9000 River Rd., Forestville).
Armstrong Redwoods
Armstrong Redwoods (17000 Armstrong Woods Rd., Guerneville, 707/869-2015, 8am-sunset daily, $8 per vehicle) is an easy five-minute drive from Guerneville. This little redwoods park often gets overlooked, which makes it less crowded than some of the popular North Coast and Sierra redwood forests. Take a fabulous hike—either a short stroll in the shade of the trees or a multiple-day backcountry adventure. The easiest walk to a big tree is the 0.1 mile from the visitors center to the tallest tree in the park, named the Parson Jones Tree. If you saunter another 0.5 mile, you'll reach the Colonel Armstrong Tree, which grows next to the Armstrong Pack Station—your first stop if you're doing heavy-duty hiking. From the Pack Station, another 0.25 mile of moderate hiking leads to the Icicle Tree.
The more adventurous can choose from any number of longer hikes up out of the redwoods to the oak and madrone forests on the ridges higher up. One such hike is a quick 2.3-mile Pool Ridge Trail Loop, which climbs 500 feet up a series of switchbacks before looping back down into the forest.
Right next to Armstrong is the Austin Creek State Recreation Area (17000 Armstrong Woods Rd., Guerneville, 707/869-2015, 8am-sunset daily, $8 per vehicle). It's rough going on 2.5 miles of steep, narrow, treacherous dirt road to get to the main entrance and parking area; no vehicles over 20 feet long and no trailers of any kind are permitted. But once you're in, some great—and very difficult—hiking awaits you. The eponymous Austin Creek Trail (4.7 miles one-way) leads down from the hot meadows into the cool forest fed by Austin Creek. To avoid monotony on this challenging route, create a loop by taking the turn onto Gilliam Creek Trail (4 miles one-way). This way you get to see another of the park's cute little creeks as you walk back to the starting point.
Bars and Festivals
Guerneville wouldn't be a proper gay resort town without at least a couple of good gay bars that create proper nightlife for visitors and locals. The most visible and funky-looking of these is the Rainbow Cattle Company (16220 Main St., Guerneville, 707/869-0206, noon-2am daily). Mixing the vibes of a down-home country saloon with a happening San Francisco nightspot, the Rainbow has cold drinks and hot men with equal abandon. Think cocktails in Mason jars, wood paneling, and leather nights. This is just the kind of queer bar where you can bring your mom or your straight-but-not-narrow friends, and they'll have just as much fun as you will.
It may not look like much from the road, but the Stumptown Brewery (15045 River Rd., 707/869-0705, 11am-midnight Sun.-Thurs., 11am-2am Fri.-Sat.) is the place to hang out on the river. Inside this atypical dive bar are a pool table, Naugahyde barstools, and a worn wooden bar crowded with locals. Out back is a second bar and an outdoor deck with tables overlooking the river. The brewery only makes a few of the beers sold on tap, but they are all great and perfect to enjoy by the pitcher. If you are feeling a little woozy from the beer and sunshine, Stumptown also serves a menu of burgers and grilled sandwiches; the food is a perfect excuse to stay put.
Held at Johnson's Beach in Guerneville, the Russian River Jazz and Blues Festival (707/869-1595, $50-60 each day, Sept.) is a two-day affair with jazz one day and blues the next. The main stage has some pretty big acts, including Buddy Guy, Al Green, and Taj Mahal, but there is plenty of music to groove to throughout the festival grounds. In addition to live acts, food vendors showcase regional fare, local artists hawk their wares, and tents serve glass after glass of wine while sunburned devotees splash around in the river. Much more than just a music festival, this event is the last big bash of the summer season; it takes place at the end of September, just before the weather reliably turns cold. If you plan to stay both days, consider camping here. Johnson's Beach (707/869-2022) has designated campsites available on a first-come, first-served basis.
Escape to the great outdoors with award-winning expert Tom Stienstra's 52 Weekend Adventures in Northern California.
Pin it for Later