The Evolution of Jazz and Blues in New Orleans
While New Orleans is known for its fine art galleries and historical architecture, and has inspired countless writers, artists, actors, and filmmakers over the decades, its biggest artistic claim to fame is indeed its music. This city is one of the world's most dynamic live-music scenes. Jazz was invented here, a conglomeration of mostly African-American traditions that has rural counterparts elsewhere in southern Louisiana in the form of zydeco and Cajun music.
There are only a handful of large-scale venues for formal concerts; in fact, many big-name musicians favor comparatively smaller stages when in town. New Orleanians are loyal, knowledgeable, and excited about music, and performers appreciate the enthusiasm, relishing the chance to play a club that's small enough to encourage a close connection between the musicians and the fans. It takes almost no planning and very little effort to find a place to catch a jamming live show in New Orleans, even on a Monday or Tuesday night. Just check the listings in the Gambit or The Times-Picayune, or simply stroll through the French Quarter or Faubourg Marigny. Dozens of clubs bellow music from their doors every night of the week, and many of these places rarely charge a cover (or at least a terribly high one), though they will typically have a one- or two-drink minimum.
Jazz
Jazz wasn't invented in one definitive instant—it evolved over 20 or 30 years during the early part of the 20th century and in several parts of New Orleans's African American community. The state has produced several jazz luminaries, among them Jelly Roll Morton, Sidney Bechet, and crooner Harry Connick Jr.
Jazz music typically uses both individual and collective improvisation, syncopation, and distinctive vocal effects, and it has its origins in European, African, and Caribbean traditional music. Commonly, you'll hear blues vocalizing sung to jazz instrumental accompaniment. Many people trace jazz to a popular cornet player named Buddy Bolden, who performed regularly in New Orleans from the mid-1890s until about 1910. Through the 1910s and '20s, ragtime-style jazz and other music forms, with a spontaneous, upbeat tempo, began to attract a following, albeit an underground one, in New Orleans.
This thoroughly modern and iconoclastic style of music was not initially well received by the mainstream. In fact, it was shunned by organizers of Mardi Gras parades for years. During the early years, many people considered this musical style to be scandalous and impudent—they criticized it at least as harshly as early critics of rock-and-roll denounced that music. Jazz was seen as a crude bastardization of more acceptable musical styles. But through time, jazz would win the hearts of even the harshest naysayers, and today, there's really no style of music for which the city is better regarded.
Blues
Blues music has its origins upriver a bit from New Orleans, about 300 miles north in the fruitful delta farming regions of northwestern Mississippi, especially the towns near Clarkdale. It's said that blues derives from the field hollers of cane and cotton workers in these parts. Eventually, the soulful vocals were joined with guitars, drums, and horns to become the modern form of blues celebrated today all through the South and especially in Louisiana. Huddie "Lead Belly" Ledbetter, who wrote such classics as "Good Night, Irene" and "Midnight Special," grew up in Shreveport, in the northwestern corner of the state, and is often credited as the father of blues music.
Blues, along with New Orleans jazz, melded together in the 1950s to influence a new genre: rhythm and blues, or R&B. It is a distinctly commercial genre that was begun with the express intent of getting airplay on the radio and acclaim for its stars through record sales, and to that end, it has always incorporated the catchiest and most accessible elements of the genres from which it borrows.
All around the state—though especially in Baton Rouge and New Orleans—clubs present live blues performers, and this often sorrowful, sometimes joyous, style of music also influences much of the jazz, rock, country-western, and gospel music heard elsewhere in the state.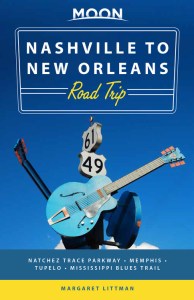 Hop in the car and set off on an adventure along the Natchez Trace Parkway, from the country music capital to the birthplace of jazz.
Pin it for Later