Gambling on a Good Time: Lake Tahoe Casinos
Lake Tahoe straddles California and Nevada, and so do visitors to the area. Heading east on U.S. 50 from the South Shore, the town of South Lake Tahoe becomes Stateline, Nevada, with barely a sign announcing the transition. On the North Shore, shortly west of the intersection of Highways 28 and 267, Crystal Bay marks the California-Nevada border crossing. The drive along the Nevada side of Lake Tahoe is beautiful, woodsy, and quiet, with fewer towns and stopping points along the way. You'll often find yourself deep in the pines with fewer lake views, though they certainly exist.
If you're driving the perimeter of the lake, many locals recommend driving the route clockwise, northbound on the west side and southbound on the east. The obvious advantage is that your car stays on the lake side, making it easier to admire the views and to pull over at beaches and scenic overlooks. But either direction provides a lovely excursion.
Casinos
If you think casinos are smoke-filled holes sheltering lonely souls pouring their savings into slot machines, think again: On the South Shore, just over the Nevada state line, various casinos attract a young crowd looking for a lively, hip night out. Note that the casinos sometimes call the town Lake Tahoe, Nevada, though it's legally Stateline.
MontBleu Resort Casino and Spa
The gaming floor of the MontBleu Resort Casino and Spa (55 U.S. 50, Stateline, NV, 775/588-3515 or 800/648-3353) is great fun on weekend evenings, with go-go dancers and youthful gamblers enjoying free drinks as they hammer the slots. As with other casinos here, you'll find full-fledged table games of the Vegas variety: craps, roulette, blackjack, and Texas hold 'em, among others. The Zone contains the sports book and the poker room, but slots and video poker machines are everywhere. MontBleu's casino is better lit and less smoky than many others, making it easy to stay and play late into the night. If you get tired of gambling, wander around to the full-service salon and spa, pool, lingerie shop, art gallery, ski-rental shop, nightclub, or several restaurants.
Harrah's Lake Tahoe
Gambling fans should definitely bring their frequent-player cards to the casino floor at Harrah's Lake Tahoe (15 U.S. 50, Stateline, NV, 775/588-6611 or 800/427-7247), which has all the Vegas gaming favorites—classic craps, rapid roulette, and Keno pads and monitors scattered all over the place. The atmosphere is a bit more classic casino, with dim lights in the evening and a warren of slot machines that make it easy to get lost. Now that Caesars Entertainment has absorbed Harrah's and its neighbor, Harvey's, it has a solid lock on its block. When you've had enough gaming, check out the live entertainment or the popular nightclub.
Harvey's Lake Tahoe
For those who can't get enough, Harrah's affiliated casino Harvey's Lake Tahoe (18 U.S. 50, Stateline, 775/588-2411 or 800/427-8397) is nearby. At Harvey's, you can play all the usual games of chance or enjoy state-of-the-art video screens while betting on football, NASCAR, and horse races in The Book, the nonsmoking racing and sports site. Harvey's also boasts a fitness center, a pool, and entertainment, from improv comedy to headliner musical acts (Tues.-Sun.) and concerts in the outdoor arena in summer.
Lakeside Inn and Casino
Smaller and less flashy, Lakeside Inn and Casino (168 U.S. 50, Stateline, NV, 775/588-7777 or 800/624-7980) is a local favorite. Lakeside looks more like a mountain lodge than a high-rise gaming emporium, and it has won the most votes for Best Casino, Loosest Slots, and Friendliest Casino Employees. The casino offers all the usual games and machines, and it is particularly welcoming for beginners, who may want to attend the "University of Lakeside" (6pm Wed.), a free seminar in the Poker Room where Lakeside employees teach the basics of blackjack, craps, and more. In a way, they pay you to come, with a free cocktail, souvenirs, and $5 worth of free play at the slots.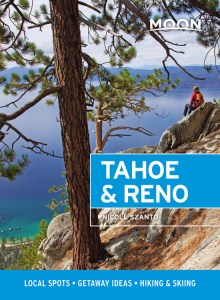 From the glittering lake and trail-lined mountains to Old West towns and artsy urban centers, experience the best of this adventurous region with Moon Tahoe & Reno.