Alabama-Coushatta Indian Reservation in Eastern Texas
One of only three Indian reservations in Texas, the Alabama-Coushatta reservation represents the distinctive heritage of this small yet proud group. At one time the tribe offered tours, a museum, and cultural events for tourists; unfortunately, they are no longer operating. Regardless, visitors are encouraged to spend time at the reservation's campground or fishing on Lake Tombigbee.
Located on 4,600 acres of dense woodland close to the center of the Big Thicket National Preserve, the Alabama-Coushatta reservation was established in 1854 by Sam Houston as a reward to the tribes for their courage in remaining neutral during the Texas War for Independence from Mexico. Both groups had been living in the Big Thicket area since circa 1800, when they migrated westward to hunt and build homes out of the abundant East Texas timber.
White settlers displaced countless tribe members, prompting many Coushattas to relocate near Kinder, Louisiana, where a majority still resides today. Malnutrition and disease took their toll on the Alabama-Coushatta, resulting in a disturbingly low population of 200 members in the late 1800s.
By the 1920s, the state and federal government recognized their poor living conditions and appropriated funds to purchase additional land, construct frame houses to replace meager log cabins, dig wells to help eliminate long water treks to natural springs, and provide medical and educational resources.
Despite the recent closing of the tribe's cultural facilities, the reservation still operates the popular Lake Tombigbee Campground, offering primitive sites, full-capacity RV stations, restrooms with bathhouses, swimming areas, and hiking and nature trails.
Call 936/563-1221 or 800/926-9038 for camping information and to obtain a map of the facilities. For additional information about the tribe, call 936/563-1100 or visit their well-organized and regularly updated website.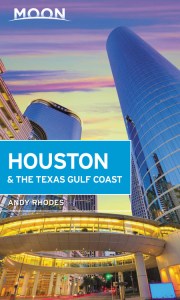 The skyscrapers of Space City, the shoreline of the Gulf, and the intrepid spirit of the Lone Star State: Experience this exciting corner of Texas with Moon Houston & the Texas Gulf Coast.
Pin it for Later