10 Best Things to Do in Tahiti and French Polynesia
Looking for the top things to do in Tahiti and French Polynesia? From pristine beaches to underwater adventures, here are our can't-miss experiences.
1. Go scuba diving
Dive among hundreds of gray sharks at Fakarava's Tumakohua Pass, home to the highest density of gray reef sharks ever recorded. Even beginner divers can enjoy seeing the wall of sharks cruise through the blue, as the current here tends to be mild.
Rangiroa's Tiputa Pass is one of the most iconic dive sites in the Tuamotus. The marine life seen on drift dives through the pass is fantastic, with humphead wrasses, manta rays, barracudas, turtles, dolphins, and sharks in abundance. Strong tidal currents make this a dive best suited for experienced scuba divers. If you're not a diver, dolphin-watching from shore is also a can't-miss experience.
2. Hit the beach
Relax and lounge on Les Sables Roses, the pink sand beaches of the Tuamotus. The color comes from red coral which has been ground down into gritty "sand" over millennia. You'll find these beaches in Rangiroa, Tikehau, and Fakarava.
3. Find fresh flavors
Eat well in Papeete, from the freshest produce at Papeete Market to the vibrant roulottes (food trucks) of Place Vaiete.
Pepeete's teeming central market is divided into sections. In the morning, check out the seafood section, where last night's catch is sold to early risers. In another section, you'll find perfectly stacked piles of produce. Some stands dole out pineapple lollipops and slices of fresh watermelon, the perfect treat to enjoy as you browse.
At Place Vaiete, you'll find everything from crêpes, noodles, and grilled meats to sky-high piles of french fries served from the windows of a few dozen trucks. Poisson cru, raw fish in coconut milk, is also a mainstay here. Musicians and dancers perform here regularly, and artisans set up shop in the walkways. It's not fancy, but it sure is fun!
4. Take a boat tour
Explore the lagoons of Bora Bora and Huahine on a boat tour in search of reef sharks, stingrays, corals, and white sand motu (small islands).
Huahine's lagoon tour operators go above and beyond the operators found in the Society Islands' more popular destinations. So, if you're going to do just one lagoon tour on your journey through these islands, choose one on Huahine. Witness the lush landscape of the island itself, snorkel with rays and sharks, admire rainbow-hued corals, stop at a pearl farm, and dine on a fresh Polynesian lunch with your toes sunk into the sands of a palm-tree motu.
5. Visit an archaeological site
Wandering the archaeological sites of the Marquesas, you'll feel a sense of awe at the overgrown remains of Hatiheu and Ma'ae I'ipona.
Hatiheu hosts six communal complexes, called tohua, and structures, called paepae. Archaeologists believe the settlement was founded in the late 13th century, and that thousands of residents gathered here for ceremonial as well as practical reasons.
The tikis found at the sacred site of I'ipona are some of the best preserved in the Marquesas. There are currently shelters to protect each of the five main tikis from further erosion, including Tiki Takaii, the largest ancient tiki in the Marquesas.
6. Watch for whales
Make eye contact with a humpback whale or see a calf jump playfully from the water off the shores of Moorea or Rurutu.
Every year, thousands of humpback whales migrate along the waters of Moorea from Antarctica, arriving in Polynesian waters in late July to mid-November. For your best chance at spotting them, peak season is from July to late August.
In Rurutu, the whales arrive from July to October. It's common to see them breach, slap their fins across the water, and race one another. If you're in the water with a male whale, you may be lucky enough to hear a haunting song.
7. Marvel at giant waves
Watch the dramatic wave break at Teahupoo from the safety of a boat—there's no greater testament to the raw power of the ocean.
Even on a small day, Teahupoo is not a beginner-friendly wave. If you don't surf, take a wave-watching tour to Teahupoo. It'll either scare you out of surfing, or inspire you to book a lesson!
8. Take an epic drive
Trundle down Tahiti's Papenoo Valley in a four-wheel drive, passing stunning waterfalls and soaring mountains covered in mist and greenery.
In the dry season, you can drive a rental car 9 miles (15 km) up the track to a suspension bridge across the Vaitamanu River and to the Vaituoru Dam. Beyond that, you need a 4WD. From coast to coast, it's a four-hour, 25-mile (40-km) trip across Tahiti Nui's center.
9. Unwind in style
Treat yourself to a stay in one of French Polynesia's one-of-a-kind accommodations, whether it's a deluxe overwater bungalow or a remote, family-owned hotel.
For luxury overwater stays, check out Sofitel Kia Ora Moorea Beach Resort, Four Seasons Resort Bora Bora, The St. Regis Bora Bora Resort, or Le Taha'a and Le Tikehau by Pearl Resorts.
For hotels and eco-friendly retreats, try Hotel Fenua Mata'i'oa on Moorea, Fare Mahi Mahi on Raiatea, Vanira Lodge on Tahiti, Tahiti Yacht Charter on Raiatea, or Ninamu Resort on Tikehau.
10. Get away from it all
Adjust to island time in Taiohae and Atuona, idyllic Marquesan villages where you can dine on fresh seafood, shop for the finest Polynesian crafts, and just relax.
In Taiohae, sailboats hoist their sails while paddlers in canoes journey from one side of the bay to the other. Horses, cars, and pedestrians share the road, and nobody hurries. By midday, the sun overhead highlights the blue beauty of the water, and life is serenely still. Come sunset, a pulse returns to town.
The town of Atuona is best known for its associations with the painter Paul Gauguin and the singer Jacques Brel, both of whom lived here. It's the largest settlement on Hiva Oa, yet it's quiet and easily walkable. If you have time, the Catholic church is worth visiting for its fine carved doors and interior. Many families head to the waterfront on weekends for picnics and swimming in the teal waters just off Atuona's jet-black sand beach.
Planning a romantic getaway to French Polynesia? Check out our ultimate honeymoon itinerary!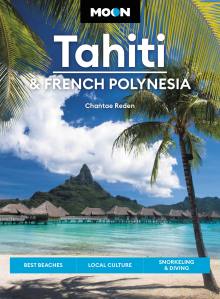 Whether you're hiking through lush forests, diving deep among coral reefs, or just kicking back on the beach, indulge in island life with Moon Tahiti & French Polynesia.
Pin it for Later