The Best Japanese Gifts for Travelers
Looking for holiday gifts for someone who loves Japan? Look no further than our guide to the best Japanese-inspired gifts, with travel guidebooks, home goods made in Japan, cookbooks, and other cute stuff.
Longtime Tokyo local Jonathan DeHart reveals the top outdoor adventures, unique experiences, and unforgettable flavors of a country unlike any other. For anyone who's serious about planning a trip to Japan, this is the essential guide.
---
Musubi Kiln Japanese Teacup
This unique teacup features Hokusai's Red Fuji, capturing the moment of the rising sun turning Mount Fuji red in a clear early morning.
---
Mochi Magic: 50 Traditional and Modern Recipes for the Japanese Treat
Each colorful page of this book brims with recipes for hand-pounded, steamed, and modern microwave mochi; fillings like rosewater, Nutella, black sesame, Oreo Cream Cheese, and Japanese plum wine; and inspiration for shaping irresistibly charming mochi flowers, baby chicks, pandas, and more. Kawaii!
---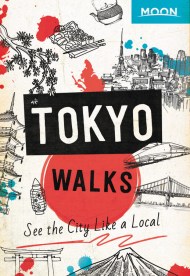 Any traveler looking to hit the electric streets of Tokyo needs this pocket-sized book as their companion, with color-coded stops and turn-by-turn directions.
---
Neco Hasami Bowl Set
For the cat lover in your life, this set of 4 porcelain bowls is the perfect size for dessert or side dishes. Made in Japan, they come in a lovely wooden gift box with a small illustration of a cat.
---
Perfect for the artistically-inclined or anyone looking for a moment of zen, this coloring book featuring the delightful streets of Tokyo promises that you will color your way to calm.
---
Yoku Moku Holiday Petit Cinq Delices Cookies
These all-natural butter creations are made in Tokyo and contain no additives, preservatives, or chemicals.
---
Inspired by everyone's favorite egg with the can't-be-bothered attitude, Gudetama: The Official Cookbook is an illustrated cookbook celebrating lazy living and easy cooking, with fun and delicious recipes from classic dishes to comfort meals.
---
Sushi Modoki: The Japanese Art and Craft of Vegan Sushi
No food is more iconically Japanese than sushi. But as any vegan or vegetarian knows, there are only so many cucumber rolls a person can eat! Enter Sushi Modoki—amazing, all-vegan re-creations of classic sushi rolls and bites. Snag this book for your vegan foodie friend.
---
Bon Voyage Tokyo Art Print
Whether they're nostalgic for their trip to Japan or dreaming of going there someday, give them Rifle Paper Co's illustrated ode to Tokyo, which was created from an original gouache painting.
---
Grab your takoyaki pan and whip up dozens of adorable, delicious recipes from traditional Japanese street foods to inventive breakfast-inspired creations and scrumptious mash-up bites.
---
Tenugui
Dating back to the Heian era (794-1192 AD), tenugui is a common household item in Japan. These versatile cloths can be used as anything from washcloths and hand towels to headbands.
You can find a variety of styles and patterns from Kiriko Made, a Portland-based Japanese textiles and apparel brand that encourages sustainability and zero waste.
---
Experience the best of Japan's top cities with this guidebook from longtime Tokyo local Jonathan DeHart, with flexible itineraries and ideas for side trips.
---
Taiyaki Maker
Taiyaki, a Japanese cake commonly filled with red bean paste, are one of Japan's most popular street foods.
This taiyaki iron includes instructions on how to fill your taiyaki with the traditional azuki bean paste or the filling of your choice, like peanut butter or jam. For anyone who loves experimenting in the kitchen, this gift is a winner.