Tips for Driving Hudson River Valley
Traveling by car affords the opportunity to meander along scenic back roads, across one-lane bridges, and down bumpy dirt roads; however, drivers should be aware that along with the rural scenery comes some inevitable run-ins with traffic congestion. And once you leave the highway, few roads are straight and flat; hills and curves are part of any Hudson River Valley road trip.
Two major interstates traverse the Hudson River Valley: I-84 connects Pennsylvania to Connecticut through southern Dutchess County. And I-87, the New York State Thruway, runs from New York City to Albany and then on to Buffalo.
Toll Roads in the Hudson River Valley
The New York State Thruway (I-87) holds the record as the longest toll highway in the United States. It costs $6.50 to drive the length of the Hudson River Valley northbound, from the New York City line to the downtown Albany exit (141 miles). The return trip costs $11.50, due to one-way bridge fees. Exits are often 15 miles or more apart, so watch carefully for signs to avoid missing your turn. Occasional rest areas have gas, restrooms, and fast food, including Starbucks. Many rental cars are equipped with an E-ZPass transponder that will bill the tolls to your account—a big time saver during busy travel times.
The following five Hudson River crossings have a $1.50 toll in the eastbound direction:
Bear Mountain Bridge (Westchester and Orange)
Newburgh-Beacon Bridge (I-84)
Mid-Hudson Bridge (southern Dutchess and Ulster)
Kingston-Rhinecliff Bridge (northern Dutchess and Ulster)
Rip Van Winkle Bridge (Columbia and Greene)
There is a $5 toll to cross the Tappan Zee Bridge between Westchester and Rockland Counties, and an $8 toll for the George Washington Bridge. All bridges and toll roads in New York State are equipped with the E-ZPass automatic transponder system, which is compatible with most systems in the Northeast. If you want to use an E-ZPass in a rental car, you must first call E-ZPass to have the license plate registered on your account. Some agencies, including Avis, rent cars with E-ZPass installed. Cash-only lanes are clearly marked at most toll plazas.
Highway Information
The best sources of real-time traffic updates for the Lower Hudson Valley and New York metropolitan area are AM 880 radio "on the eights" (1:08, 1:18, 1:28, etc.) and AM 1010 "on the ones" (1:01, 1:11, 1:21, etc.). Radio Catskill is a hydropowered community radio station serving the Catskills, the Upper Delaware, and Mid-Hudson regions (FM 90.5 and FM 94.5). In Albany, tune to WAMC Northeast Public Radio (FM 90.3 in Albany and FM 90.9 in Kingston).
Consult www.nycroads.com/crossings/hudson-river for bridge conditions. Also online is the New York State Travel Information Gateway at www.511ny.org, with information by region.
The Taconic State Parkway
The scenic Taconic State Parkway runs north-south from the Sprain Brook Parkway, which comes out of New York City, to I-90 near the Massachusetts state line and offers convenient access to many of the Hudson River Valley's inland towns. Unlike the six-lane interstates that run parallel to it, the Taconic has just two lanes in each direction with a wide, green median in between. It crosses some of the prettiest woodlands, marshes, and fields of Westchester, Dutchess, and Columbia Counties, making it a popular route for motorists.
Several risks make the route one of the more dangerous in the state. When driving the Taconic for the first time, take these factors into consideration:
Narrow lanes: The Taconic's narrow lanes are unforgiving, particularly on icy or wet roads. There are drains every few hundred feet on both sides and no emergency breakdown lanes. If you must stop for any reason, pull all the way onto the grass, as far as possible away from traffic.
Cross traffic: Except for a few of the busiest intersections, the Taconic does not have on- and off-ramps. After one too many accidents, the state closed most of the hazardous crossroads in Dutchess County, but many in Columbia County remain open. Watch for cars braking suddenly in the left lane to turn, or for cars accelerating slowly in the right lane.
Deer: The Hudson River Valley supports a healthy population of white-tailed deer, and many of them feed on the shrubs and bushes that line both sides of the Taconic. Watch for eyes at night, and remember that a deer caught in the glare of oncoming headlights will often freeze in its tracks. When you see one, others are likely feeding nearby.
Speed traps: The speed limit on the Taconic is 55 miles per hour, and New York State troopers are serious about enforcing it. Although traffic moves much faster during rush hour, troopers frequently lurk in the median to catch drivers who exceed the limit by as little as five miles per hour. Bulls Head Road near Rhinebeck and the town of Fishkill are known hot spots.
U.S. Route 9 and Route 9W on the east and west sides of the Hudson River are slower north-south routes through the valley.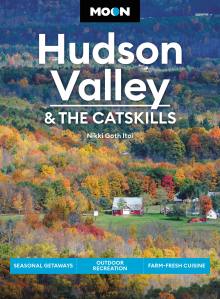 The Hudson Valley is a breath of fresh air: explore historic estates, hike wild mountain terrain, and bask in small-town charm with Moon Hudson Valley & the Catskills.
Pin it for Later