Where to Stay in Fiji on a Budget
In Fiji, it's possible to have the tropical resort experience without breaking the bank. Neither dirt cheap nor luxury, these resorts strike the perfect balance between your wallet and your dream. Most are owner-operated, and those that aren't have attentive management on-site to take care of your needs. With discounts available through their own websites or third-party sites, you can typically stay at these places for US $50-150 for two people per night. (Note that Suva doesn't really have resorts—it has hotels and motels—and the Outer Islands do not have many budget-friendly resorts.)
Nadi and Vicinity
The Palms, Denarau: Spacious, modern apartments with fully equipped kitchens, suitable for groups, making a great base from which to explore the Nadi area while saving money on meals.
Sapphire Bay, Vuda Point: Huge four-bedroom, three-bathroom villas that sleep up to 12 people, a short drive from the Nadi Airport, with kitchens, a private pool, and stunning views of the western isles—so you can bring everyone you love with you.
The Mamanuca and Yasawa Islands
Coral View Island Resort, Tavewa Island: One of the nicest budget places to stay in Fiji, with bures as well as dorms, on a secluded beach with a mostly under-35 crowd.
Blue Lagoon Beach Resort, Nacula Island: Villas as well as dorms near fabulous white-sand beaches and clear lagoons.
Octopus Resort, Waya Island: Family friendly with a great beach.
Manta Ray Island Resort, Nanuya Balavu: This resort sits on a point between two nice white beaches. There are "jungle" bures with private baths, and the small "tree house" bures with shared baths that jut out from a hillside amid trees are perhaps the most charming budget rooms in the country.
Coral Coast
Bedarra Beach Inn, central Coral Coast: Clean and bright, with a good restaurant, it's across the road from a small private beach good for swimming and snorkeling at high tide.
The Uprising, Pacific Harbour: Popular with young, active travelers, it has plenty of water sports, a party vibe, and a range of hearty food.
Lawaki Beach House, Beqa Island: Located on an idyllic beach, it's small and quiet, locally run, and far more affordable than other options on the same incredible Beqa Lagoon.
Vanua Levu
Daku Resort, Savusavu: Friendly and active, an ideal base for tours and activities.
Siga Siga Sands, Hibiscus Highway: Your own bungalow, spaced well away from others, on the island's best lagoon beach.
Taveuni
Paradise Taveuni Resort: Attentive service, pleasant grounds, and easy boat access for divers, fishers, and snorkelers; no beach.
Garden Island Resort: On the beach, with air-conditioning and four-star comfort.
Lomaiviti Group
Leleuvia Island Resort: An ecotourism leader set among miles of pristine sanctuary waters, with an art gallery and traditionally constructed buildings and canoes.
The Baystay, Ovalau: Cozy, on a small beach cove, and with good meals prepared fresh by attentive on-site owners.
More tips for affordable Fiji:
On a budget, you can't beat the glorious beach (and the price) on Nacula Island in the Yasawas.
The tiny Tivua Island is a pleasant place to spend a day. It's affordable and very safe and is the first stop on many multiday cruises.
For adventures on a budget, check out Pacific Harbour, the Coral Coast, Nananu-i-ra, Savusavu, or Beqa.
Taxis are plentiful and also relatively cheap, except in certain tourist areas such as Denarau. On Viti Levu, taxis are metered, and meters are required for trips under 16 kilometers. For longer trips, or on other islands, you'll need to negotiate. You don't need to accept the first "flat rate" you hear; haggling aggressively in Fiji is not customary, but you can often get the driver to budge by at least 10% if you're friendly. It's affordable to hire a taxi for a half-day or whole-day tour, especially for two or more people. Show the driver a list of everything you might want to see before setting out and be sure the price is clearly understood.
For an all-inclusive, multi-island experience, budget travelers can check out the Bula Combo Pass offered by Awesome Adventures. Passes are valid for 5-15 days and can be used for travel on certain South Sea Cruises trips (only Bounty, Treasure, Beachcomber, and South Sea Islands) as well as all Awesome Adventures vessels to the Mamanucas and Yasawas. Your pass is activated on the first day of travel, and you can island-hop as much as you like, as long as you make boat and accommodation reservations 24 hours ahead. Be sure to book well ahead during peak periods, though.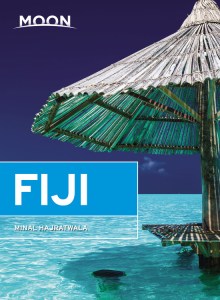 Explore the colorful reefs, volcanic canyons, emerald rainforests, and unspoiled beaches of this sparkling archipelago with Moon Fiji.
Pin it for Later