Where to Go in Croatia, Slovenia, and Montenegro
Croatia, Slovenia, and Montenegro have so much to offer. You'll find sunny cities crisscrossed by winding cobblestone streets, blue gem lakes set amongst white-capped mountains, a crystalline sea, colorful festivals, great food and wine, and much more. If you're planning a trip to the peninsula, here's where to go.
Zagreb, Croatia
Croatia's charming, lively capital is the cultural and social heart of the country. Local life revolves around the bustling squares and streets of Lower Town. For history, head to Upper Town with its quiet, winding cobblestone roads, stunning churches, and excellent museums. Bridging old and new are the delightful Tkalčićeva and Radićeva streets with their boutiques and cafés. Mount Sljeme, just out of town, is the place locals go to hike and enjoy the nature on weekends.
Inland Croatia
Inland Croatia remains relatively undiscovered, dotted with picturesque villages, excellent restaurants, and seoski turizam (traditional farmhouse) establishments, where you can sleep like a local and wake up to the rooster's crow. Vineyards dot the countryside, and natural escapes abound, from the stork-filled wetlands of Lonjsko polje, to the mountains of the Žumberak, to the famous Plitvice Lakes National Park. The easternmost region of Slavonia, still feeling the effects of the Homeland War almost 30 years ago, is full of friendly people eager to show off their towns to visitors.
Kvarner Gulf, Croatia
Ferries depart from the laidback port town of Rijeka for the stunning islands of the Kvarner Gulf, such as Rab, with its preserved old town and colorful festivals; Krk, drawing a younger, party-loving crowd; genteel Lošinj; and relatively undeveloped Cres, whose clay cliffs jut into the remotest portions of Croatia's Adriatic.
Zadar and Northern Dalmatia
The northern coast is full of Roman-Venetian architecture, starting with the impressive old towns of Zadar and Šibenik. Beaches can be filled to capacity in the summer, but you should be able to find a relatively roomy one by hiring a boat to take you to one of the little islands just off the coast, each with a culture and personality all its own.
Istria and Coastal Slovenia
This tiny peninsula wedged between Croatia and Slovenia, and only a stone's throw from Italy, packs a big punch. You can sun yourself on a rocky beach in the morning, retreat inland to picturesque hilltop towns for lunch, and finish off the day with dinner in a bustling medieval city back on the coast. Istria is most famous for three things, and you shouldn't miss any of them: the Roman amphitheater in Pula, wine, and truffles. But there's more to unearth here, from tiny little villages like Hum to a taste of the faded grandeur of the Tito era in the Brijuni Islands.
While not as grand as the Croatian coast just to the south, the coast of Slovenia has many charms of its own. Venetian-influenced Piran is the pride of the Slovenian coast and a good starting point for those exploring the region.
Split and Southern Dalmatia
Split is the boundary between north and south on the Dalmatian coast, important not only because it's the second-largest city in Croatia and for its dozens of connections to the Croatian islands, but also for the beautiful Diocletian's Palace in the heart of town. Hvar has already made a name for itself as a glitzy island destination, but it's not alone in its beauty. From the former pirate stronghold, Omiš, to the purported birthplace of Marco Polo on Korčula, to rafting the Cetina Gorge, there's something here for every traveler.
Dubrovnik, Croatia
Dubrovnik, Croatia's most famous city, hosts masses of tourists, and it's easy to see why when you first spot the dramatic walled city on a cliff, with grand architecture, sunny cream stone, and red-tiled roofs contrasting with the blue Adriatic Sea. Explore the winding old streets, feeling like you're on the set of Game of Thrones, then head to the island of Lokrum just offshore for a break from the crowds.
Ljubljana, Slovenia
Ljubljana may be small, but it has a cultural menu to rival much larger capitals: a hilltop castle, funky nightlife, and a strong sense of self. It's impossible to ignore the influence architect Jože Plečnik had on the city; his touch is all over Ljubljana, including its famous Triple Bridge, the colonnaded market, and many a tree-lined promenade. The cultural, social, and political capital of Slovenia is also home to an impressive selection of museums and galleries.
Inland Slovenia
Filled with mountains, lakes, rivers, and caves, Slovenia's interior is an outdoor enthusiast's dream. There's also food, culture, and history to be discovered, including wineries, Roman ruins, herding settlements, and centuries-old churches and castles. The region's most famous town is Bled, with its church-topped island in the center of the mountain-rimmed lake, but its gem might be the alpine Logar Valley to the east, rimmed by massive snow-capped peaks. Those into rafting and adventure sports will be happiest around Triglav National Park, with plenty of adrenaline-pumping activity.
To the west, Postojna Cave and Škocjan Caves are worth a visit, while Predjama Castle, built into a rock face high above a village, is straight out of a storybook.
Montenegro
Montenegro is a tiny country with a wide variety of terrain and experiences. If you love beachside lounging, you will find plenty of company at the beaches in Budva. The Gulf of Kotor, with the famous walled city of Kotor and the island church of Our Lady of the Rocks, as well as the inland town of Cetinje, the cultural and erstwhile capital of Montenegro, are a must for culture and history buffs. Lake Skadar and Lovćen National Park are great places to hike and get away from it all. If you're really tight on time, a day trip to Herceg Novi from Dubrovnik can give you a little taste of the country.
---
Croatia, Slovenia, and Montenegro Travel Map
---
Start planning your adventure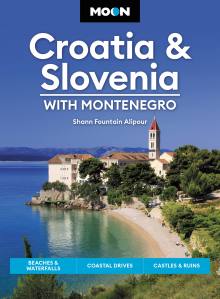 From ancient ruins and picturesque mountain towns to epic hikes and secluded beaches, a week in the Mediterranean awaits.