Low-Impact Tourism in the Galápagos Islands
Galápagos is an amazing, though fragile, destination. Visitors often want to know how they can travel most responsibly. Low-impact tourism is about benefiting local communities and minimizing environmental impacts. When local communities benefit directly from their unique natural resources, they are incentivized to become stewards and protect them. Here's some ideas that anyone can do.
Following National Parks Rules
Stay 2 meters (6.6 ft) away from wildlife.
Keep on the trails.
Ensure your kids follow the rules too.
See someone breaking the national park rules? Tell them (nicely of course!).
Conservation
Bring a reusable water bottle and grocery bag; avoid plastics.
Take short showers and turn off the lights.
Use less air-conditioning; turn it on low, or use the fan.
Request linen and towel changes only when necessary.
Pick up any trash that you see.
Use reef-safe sunscreen.
Transportation
Rent a bike instead of hiring a taxi.
Take public transportation when possible.
Offset the carbon footprint of your flights and transportation.
Stay awhile; avoid jet-setting tours that cover Galápagos, Machu Picchu, and the Amazon all in one week.
Local Communities
Support locally owned businesses.
Had a great stay at a family-run guesthouse or restaurant? Write a review and spread the word.
Eat locally grown products whenever possible; order the fish.
Get involved with a volunteer opportunity that matches your skills.
Make a donation to a good cause, such as the research, conservation, and environmental education efforts of the Charles Darwin Foundation and the Galápagos Conservancy.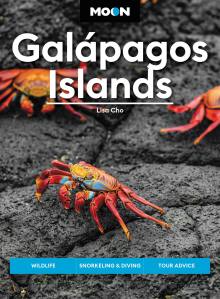 The Galápagos archipelago is one of the most beautiful, wild, and untouched places on earth. Travel back in time with Moon Galápagos Islands.
Save for Later