Self-Guided Walk in Washington DC: U Street, Shaw, and Logan Circle
Take a walk in Washington DC through U Street and Shaw, a center of African-American life and culture for much of the 20th century, and the childhood home of Duke Ellington, who later played at the jazz clubs around U Street, known as "Black Broadway." The neighborhood was decimated during the riots in April 1968, after the assassination of Martin Luther King Jr. The neighborhood eventually began to rebuild. Today, you'll find rejuvenated landmarks like The Howard Theatre and markers for the self-guided African American Heritage Trail, as well as booming growth and development, with new restaurants and shops popping up seemingly every day.
To experience the joy of the neighborhood, take this walk on a weekend afternoon, when locals flock to the streets for late brunches that turn into early cocktails and dinner. If you're taking the Metro to the neighborhood, the starting point of the walk, Ben's Chili Bowl, is directly across the street from the 13th Street and U Street entrance of the U Street/African-Amer Civil War Memorial/Cardozo Metro station.
Total Distance: 1.8 miles (2.9 kilometers)
Walking Time: 35 minutes
The tour begins at one of the must-visit restaurants in DC: Ben's Chili Bowl, which stayed open late to serve half-smokes (spicy half-pork/half-beef sausages, served on buns and smothered in chili) to law enforcement and activists following the 1968 race riots. Have a bite at the old-fashioned counter, or at least peek at the walls covered with photos of famous diners visiting the restaurant, including President Obama. And don't miss the mural on the outside wall; it was redone in June 2017 to add Harriet Tubman, Dave Chappelle, and the Obamas.
Head east on U Street, busy with brunchers and shoppers and fitness fanatics on a weekend afternoon. On the right before 12th Street, look for the True Reformer Building, the classical revival and Romanesque building designed in 1903 by John Anderson Lankford, the first registered African American architect in Washington DC. Now the headquarters of the Public Welfare Foundation, the building originally housed organizations that helped African Americans set up businesses and access social services in the early 1900s.
Keep walking east to 11th Street to Bohemian Caverns, DC's oldest jazz club, which operated for 90 years before it closed in 2016. Turn north onto 11th Street NW to see the gorgeous blue and purple mural depicting jazz legends (on the north side of the building). Return to U Street, then walk 1.5 blocks toward Vermont Avenue. Enter the plaza on your right at the Metro station to view the African American Civil War Memorial.
Continue southwest on Vermont Avenue to tour the African American Civil War Museum, across the street from the memorial. This museum is packed with educational displays about African Americans who fought in the Civil War. History buffs could easily spend a few hours diving in. If you have relatives who served in the Civil War, look up your family tree in the museum's registry.
Double back to U Street NW and walk two short blocks east to Nellie's Sports Bar, where a crowd has likely gathered on the roof if the weather's nice. On weekends, this popular gay bar is a hot spot from brunch into the evening. Head south on 9th Street NW, the heart of Shaw and DC's Little Ethiopia.
Walk south one block on 9th Street, then go east on T Street NW for about three short blocks to reach The Howard Theatre. The box office is open Tuesday through Sunday. If one of DC's go-go bands is on the schedule, be sure to get tickets to hear Washington's homegrown music tradition, which was popularized by the late Chuck Brown in the 1970s and 1980s. Half a block northeast of the theater at T Street NW and Florida Avenue NW, the 20-foot stainless steel Duke Ellington statue pays homage to the musician, who grew up in Shaw and began his career in the jazz clubs of "Black Broadway."
Walk northwest on Florida Avenue NW three blocks to 9th Street. You'll notice shiny new buildings as you enter the North End Shaw shopping district, which has several niche, high-end apparel, accessories, and beauty retailers.
When you're done shopping, head north on 9th Street NW two blocks to approach the 9:30 Club at the corner of 9th and V Street NW. It looks like a nondescript warehouse from the outside, but this is the city's top music venue, rated one of the best in the country by Rolling Stone. The box office is open Monday through Friday, plus weekends when there's a show. Check the lineup, because if something catches your eye, a show at the 9:30 Club is must-experience nightlife.
Turn back the way you came on V Street NW and veer slightly northwest on Florida Avenue NW. Enjoy this quiet, mostly residential area, and walk for about four long blocks (10 minutes) to reach Florida Avenue Grill at the corner of Florida and 11th Street NW. If you didn't eat at Ben's, you can stop for a hearty meal at the oldest soul food restaurant in the world. Otherwise, continue west for another 2.5 blocks on Florida Avenue and peek at the rainbow of row houses on 12th Place.
Continue west along Florida Avenue for two long blocks (about five minutes) to reach 14th Street NW. Turn south on 14th Street, where you'll have a plethora of options for a cocktail or, if you're ready to eat, a late lunch or early dinner. At 14th Street NW and V Street NW, stop at neighborhood icon Busboys and Poets, where you can eat, drink, and shop in the on-site bookstore specializing in books about social justice issues and DC life and history.
To get back to the Metro and your starting point, walk another block south on 14th Street and go east on U Street for one long block (about four minutes). Or continue south on 14th Street, where the options for shopping and nightlife continue for six bustling blocks all the way to Logan Circle. Highlights include Le Diplomate, Café Saint-Ex, and Pearl Dive Oyster Palace, as well as Miss Pixie's and Salt & Sundry for cool housewares and local souvenirs.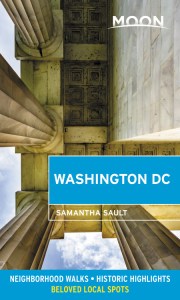 From strolling the National Mall to hobnobbing at happy hour, get to know the nation's capital with Moon Washington DC.
Pin For Later