The Five Best Hikes in the Galápagos
Bring your walking shoes, because rocky trails in the Galápagos are not meant for sandals. There are trails along pristine beaches, through forests of cacti, and along otherworldly blackened lava trails, offering close encounters with wildlife and sweeping views over the archipelago.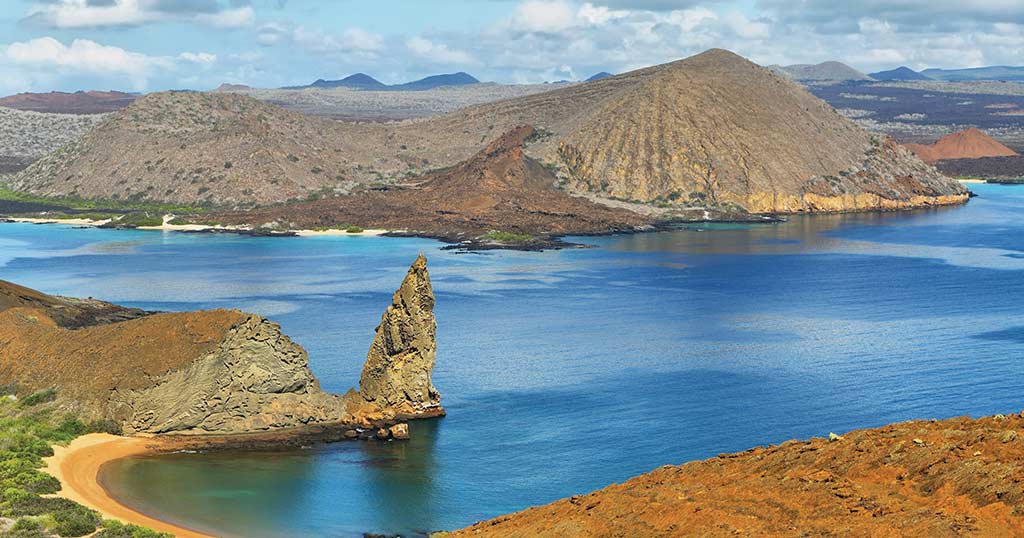 Santa Fé
This small island midway between Santa Cruz and San Cristóbal offers trails through a forest of opuntia cacti, which grow up to 10 meters high, with Galápagos hawks circling overhead. Negotiate the rocky trail and cross a steep ravine to view colonies of the yellow Santa Fé iguana, endemic to the island.
Frigate Bird Hill, San Cristóbal
This is just one of many good hikes close to the main ports. Past the Interpretation Center are trails into the hills where frigate birds nest. The bay below has good snorkeling, or go to Playa Cabo de Horno, a quiet beach frequented by sea lions and backed by mangroves.
Sullivan Bay, Santiago
On the east side of the island, the trail along this blackened lava flow is a glimpse of what the earth must have looked like at the dawn of time. An eruption in 1897 left the area covered in mesmerizing patterns of pahoehoe lava. It's difficult to negotiate but a fascinating experience.
Bartolomé Island
This tiny island is the most photographed sight in the archipelago. A wooden staircase leads 114 meters up to a summit. In the foreground the mangroves are flanked on either side by twin half-moon beaches. Rising up behind is the famous Pinnacle Rock, a jagged lava formation. Descend to the short trail through mangroves between the two beaches, and cool off with some snorkeling with sea lions.
Sierra Negra, Isabela
By far the best trek is around this active volcano, the second-largest crater in the world. Take the short route to the fissure of lava cones at Volcano Chico, or hike further into the yellow hills of the pungent Sulfur Mines.
---
Related Travel Guide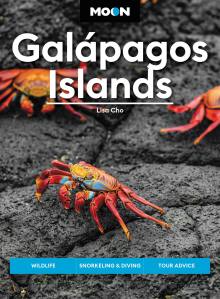 The Galápagos archipelago is one of the most beautiful, wild, and untouched places on earth. Travel back in time with Moon Galápagos Islands.
Save for Later