Playa Zipolite Beach, Oaxaca
Playa Zipolite (see-poh-LEE-tay), a wide, mile-long strand of brilliant golden sand enfolded by headlands and backed by palm groves, is simply stunning. It stretches from the intimate little cove and beach of Playa del Amor, tucked on its east side, to towering cactus-festooned sea cliffs rising behind the new-age Shambala retreat on the west end.
Although often good for wading and for casual swimming (with care), Playa Zipolite's surf, usually tranquil in the mornings (but always with significant undertow), can turn thunderous by the afternoon, especially when offshore storms magnify both the swells and the undertow. Experienced surfers love these times, when everyone but experts should stay out.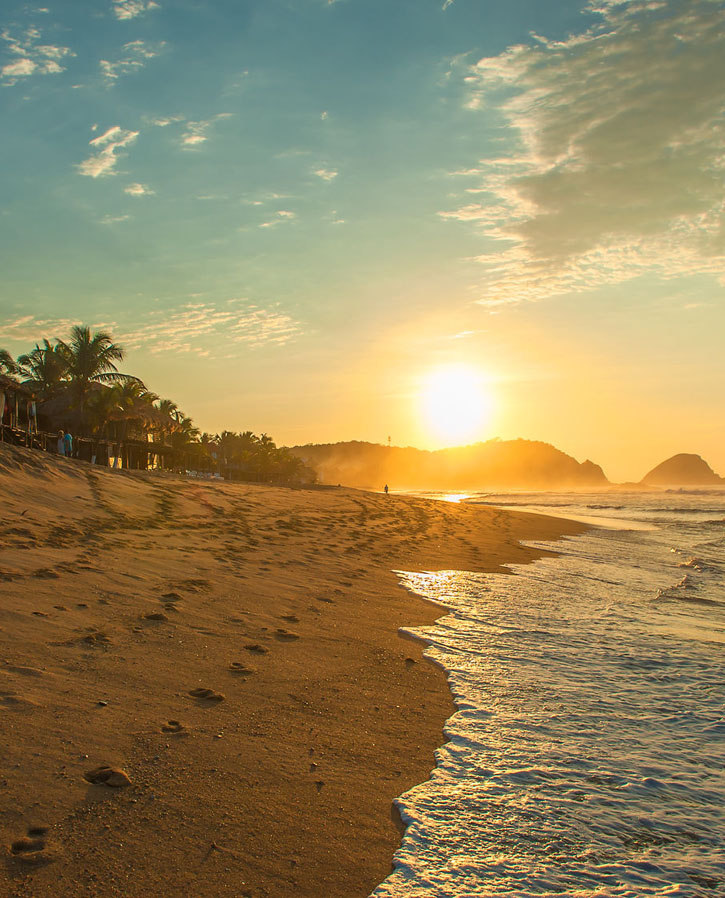 Playa Zipolite has evolved from a lineup of stick and thatch beachfront cabañas to mostly concrete hotels, most with oceanfront palapa restaurants. Many of these hotels share a new, paved, two-block streetfront known locally as the adoquín (ah-doh-KEEN), along with a procession of homegrown restaurants and small businesses, from grocery and pharmacy to surf shop, laundry, and Internet stores. All of this, in a neighborhood known as Colonia Roca Blanca, is now Playa Zipolite's town center. Get there, heading west from Puerto Ángel, by turning left, past Piñ Palmera, the children's school.
Good surfing notwithstanding, Playa Zipolite's renown stems from its status as one of the very few nude beaches in Mexico. Bathing au naturel, practiced nearly entirely by visitors and a few local young men, is tolerated only grudgingly by local people, many of whose livelihoods depend on the nudists. If you're discreet and take off your clothes at the more isolated west end (behind the big rock), no one will appear to mind (and women will largely avoid voyeuristic attention from Mexican boys and men).
---
Related Travel Guide