Best Olympic Peninsula Campgrounds
The only time span suitable for camping on the Olympic Peninsula is between Memorial Day and Labor Day—at least for those who want to stay somewhat dry. During this limited window, it's important to scout out campgrounds far in advance to make sure you can secure a spot. For reservable campgrounds, book a soon as sites become available. For first-come, first-served campsites, go on weekdays if you can or, if you want to stay over a weekend, try to arrive on Thursday. And make sure to have a plan B!
The Kitsap Peninsula and Hood Canal
Staircase Campground: Just one hour north of Olympia, this campsite is surrounded by the ancient old-growth Douglas firs that dominate this side of the peninsula. It has 47 first-come, first-served sites and provides access to a variety of nearby hiking trails. (360/565-3130, $20, year-round)
Hamma Hamma Campground: This shady site is first-come, first-served and situated on the shores of the Hamma Hamma River, about 20 miles from Hoodsport. It's near the Living Legacy Trail, an interpretive loop that's wheelchair-friendly for the first quarter mile. (877/444-6777, www.recreation.gov, $14)
Port Angeles and the Northern Peninsula
Fort Worden State Park: Reserve one of the 80 campsites here early—you can do so up to nine months in advance—as this destination is super popular. That's because this former military fort is conveniently located and full of activities, including tours of the remaining buildings from the original fort. (200 Battery Way, 360/344-4400, www.parks.wa.gov, $14-42)
Dungeness Recreation Area: Located just outside both Sequim and the Dungeness National Wildlife Refuge, this 64-site campground is located on a bluff above the Strait of Juan de Fuca and has a 1.1-mile trail along the bluff overlooking the strait. Half of the campsites can be reserved online, while the other half are first-come, first-served. (554 Voice of America W., 360/683-5847, $22-25)
Hoh Rain Forest and the Coast
Mora Campground: Close to the Quileute Indian Reservation at La Push, Mora Campground is first-come, first-served and just two miles from Rialto Beach on the Pacific Ocean. It has running water all year long and is a perfect home base for exploring this part of the peninsula. (14 miles west of Forks, 360/565-3130, www.nps.gov/olym, open year-round, $12-25)
Hoh Rain Forest Campground: With 88 first-come, first-served campsites situated in the middle of old-growth forest and alongside the Hoh River, this campground might best epitomize the Olympic Peninsula. From here you have access to several trails that lead around the river and through the forest. (360/374-6925, www.nps.gov/olym, $20)
Twin Harbors State Park: Once a military training ground, this 172-acre beachfront location near Westport now is home to more than 260 campsites of all varieties with access to trails, bird-watching, and other activities. Sites are reservable online up to nine months in advance. (3120 Hwy. 105, $12 primitive tent site, $33-45 premium hookups)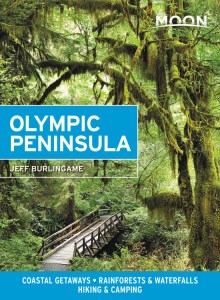 Charming small towns, verdant rainforests, rocky coastline, and mountain meadows: experience the surreal beauty and endless adventure of the Pacific Northwest with Moon Olympic Peninsula.
Pin it for Later