Wildlife in Glacier National Park: Safety Tips and Hot Spots
Glacier National Park has 60 mammal species and more than 260 species of birds; bring the binoculars to aid in wildlife-watching.
Hot Spots for Viewing Wildlife in Glacier National Park
Inside Road: Spot elusive gray wolves on this uncrowded dirt road at dawn or dusk.
McGee Meadows: The North Fork Valley houses 196 bird species. McGee Meadows bustles with snipes, soras, and red-tailed hawks.
Avalanche Paths: In early spring, grizzly bears prowl for carcasses in avalanche slopes on Mount Cannon and the Glacier Wall on Going-to-the-Sun Road.
Logan Pass: Mountain goats and bighorn sheep wander through the parking lot at Logan Pass and frequent the Hidden Lake Overlook trail.
Two Dog Flats: In spring and late fall, elk feed in early morning at Two Dog Flats near Rising Sun while aspens attract woodpeckers, flickers, and owls.
St. Mary and Virginia Falls: These two waterfalls create perfect habitat for dark, bobbing American dippers.
Mounts Henkel and Altyn: Grizzly and black bears feed on huckleberries on these two peaks in Many Glacier in late summer.
Swiftcurrent Valley: A gentle hike runs through moose country to Red Rock and Bullhead Lakes. Listen for white-crowned sparrows, loons, Clark's nutcrackers, and golden eagles.
Goat Lick: On U.S. 2, the natural mineral lick attracts mountain goats in early summer.
Waterton Lakes: Waterton's Maskinonge and Linnet Lakes wetlands abound with ospreys, swans, and kingfishers.
Bison Paddock: The Waterton bison paddock houses a small herd of shaggy bovines that once roamed wild.
Kootenai Lakes: Hop the Waterton tour boat and hike to Glacier's Kootenai Lakes to see moose and trumpeter swans.
Tips for Safely and Successfully Viewing Wildlife
Safety for you and safety for the wildlife is important. For spying wildlife up close, use a good pair of binoculars.
Do not approach wildlife. Although our inclinations tell us to scoot in for a closer look, crowding wildlife puts you at risk and endangers the animal, often scaring it off. Sometimes simply the presence of people can habituate an animal to hanging around people; with bears, this can lead to more aggressive behavior.
Let the animal's or bird's behavior guide your behavior. If the animal appears twitchy, nervous, or points eyes and ears directly at you, back off: You're too close. The goal is to watch wild animals go about their normal business, rather than to see how they react to disruption. If you behave like a predator stalking an animal, the creature will assume you are one. Use binoculars and telephoto lenses for moving in close rather than approaching an animal.
Most animals tend to be more active in morning and evening. These are also optimum times for photographing animals in better lighting.
Blend in with your surroundings. Rather than wearing loud colors, wear muted clothing that matches the environment.
Relax. Animals sense excitement. Move slowly around them because abrupt, jerky movements can startle them. Look down, rather than staring animals directly in the eye.
Don't get carried away watching big, showy megafauna like bears and moose only to miss a small carnivore like a short-tailed weasel.
Use field guides to help with identification and understanding the animal's behavior.
If you see wildlife along a road, use pullouts or broad shoulders to drive completely off the road. Do not block the middle of the road. Use the car as a blind to watch wildlife, but keep pets inside. If you see a bear, you're better off just driving by slowly. Bear jams tend to condition the bruin to become accustomed to vehicles, one step toward getting into more trouble.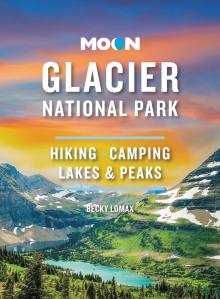 Through lush green parkland and up to the top of jagged summits, forge your own path with Moon Glacier National Park.
Pin it for Later