The Best of Glacier National Park: One Week Itinerary
Explore Glacier National Park for indelible memories. This one-week itinerary guides you through the best natural features of the park with visits to beautiful lakes and rivers, wildlife hot spots, and the top hiking trails.
If you'd like to stay in one of the historic lodges inside the park, plan to make reservations 13 months in advance.
Day 1
Wow yourself from the start by heading to historic Many Glacier Hotel for three nights. In the afternoon, rent a canoe or kayak to paddle Swiftcurrent Lake, or walk the trail that circles the lake. Then, feast on dinner in the dining room followed by relaxing on the hotel deck and watching for bears on Mount Altyn, moose in Swiftcurrent Lake, and the sunset over the Continental Divide.
Day 2
Hop the first boat across Swiftcurrent Lake and Lake Josephine to hike to Grinnell Glacier with a park naturalist for a close-up view of one of the park's remaining glaciers. The route climbs along cliffs to reach the steep switchbacks ascending the moraine to overlook Upper Grinnell Lake and the shrinking ice. For a shorter hike from the boat, go to turquoise Grinnell Lake instead.
Day 3
From Swiftcurrent, hike to Iceberg Lake and scan the hillsides for wildlife. For a shorter walk, go to Red Rock Falls. In the evening, drive Many Glacier Road to look for wildlife.
Day 4
Get an early departure up Going-to-the-Sun Road, stopping at overlooks and pullouts for photos. Hike to St. Mary Falls and Virginia Falls. Skip Logan Pass for now (you'll be back) and descend the west side to the historic Lake McDonald Lodge for three nights. Dine early in Russell's Fireside Dining Room in time to take the evening boat tour on Lake McDonald.
Day 5
In the morning, hike Trail of the Cedars and Avalanche Lake to revel in the rainforest environment. In the afternoon, saddle up to ride horseback with Swan Mountain Outfitters.
Day 6
Choose your option for visiting Logan Pass. Drive up early to hike to Hidden Lake Overlook. Ride one of the historic red buses to the pass so you can soak up the scenery. Or depart at 3:30pm to drive to Logan Pass with a picnic dinner to hike to the overlook and stay after dark for stargazing.
Day 7
For your finale, don a life jacket for splashing down the Middle Fork of the Flathead River with one of West Glacier's raft companies. A photographer will capture you paddling in frothy Bonecrusher Rapid.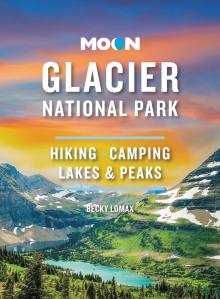 Through lush green parkland and up to the top of jagged summits, forge your own path with Moon Glacier National Park.
Pin it for Later