8 Ways to Escape the Crowds in Rocky Mountain National Park
If jam-packed shuttle buses and crowded visitor centers give you the heebie-jeebies, schedule your trip to Rocky Mountain National Park sometime other than on a summer weekend. Here are some other suggestions for quiet time:
Take a bike ride on Old Fall River Road or Trail Ridge Road in the spring. Both roads are usually open to bicycles in April; before you arrive, double-check with the park about exact dates.
Explore the less-visited northwest end of the park. Hike on the Mummy Pass Trail and spend the night at Desolation wilderness site before trekking out to Mirror Lake.
In August, drive up Trail Ridge Road after dark to view the annual Perseid meteor shower. Cozy up with a blanket on your tailgate or in a camp chair and watch meteors streak the sky.
Snowshoe to the old mining town (and now ghost town) of Lulu City. In November, especially on a weekday, you might find yourself passing only Park Service vehicles on your drive through the Kawuneeche Valley to the Colorado River Trailhead.
Have a sunrise breakfast by a scenic lake, such as Dream Lake or Lily Lake. Pack a portable meal and a hot beverage and plan to be at the trailhead before dawn.
In the summer, join the 8am Coffee with a Ranger program at the Glacier Basin Campground amphitheater or Moraine Park Campground amphitheater. If evening ranger programs feel too busy for your taste, this is a more intimate opportunity to learn about the park and connect with park staff.
During the elk rut in autumn, when everyone is clamoring over campsites at Moraine Park Campground, drive over Trail Ridge Road to the Timber Creek Campground. You are more likely to score a first-come, first-served spot here, and in all probability you will hear some elk bugling during your stay.
On a clear morning, watch the sun rise at Rainbow Curve.
---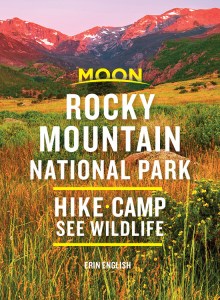 Incredible wildlife, stunning glaciers and waterfalls, and unforgettable adventure awaits you in Moon Rocky Mountain National Park.
---
Pin it for Later
Photo of Dream Lake © Erin English.