DC Nightlife: 13 of the Capital's Best Bars and Venues
In Washington DC, presidential debates, snow days, and major news events call for booze—and lots of it. Residents guzzle more alcohol per capita than residents of any other state except New Hampshire—they work hard and party harder. As a result, the city's nightlife centers around bars: cocktail bars, wine bars, beer gardens, posh hotel lounges, and historic bars, where lobbyists and staffers grease the wheels among the ghosts of presidents and policymakers past. DC nightlife includes a little bit of everything, from dance clubs and music venues to craft cocktails and perfectly dingy dives.
Whatever your party preference, there's a good time to be had in the capital. Here are our top choices for a night out on the town.
Best Rooftop Bar
This one is a tie. Take your pick between POV, a swanky bar on the covered roof of the W Hotel where a chic crowd enjoys cocktails, bites, and bottle service with a view of the White House, and Top of the Gate, the sprawling, open-air rooftop bar at the Watergate Hotel, with 360-degree views of downtown, Georgetown, and Virginia.
Most Historic Venue
Round Robin Bar at the Willard InterContinental has witnessed a lot of history since it was established in 1850. Famous customers have included Walt Whitman, Mark Twain, Buffalo Bill Cody, and presidents such as Lincoln, Coolidge, Wilson, and Taft. It's also where Senator Henry Clay introduced DC's first mint julep with Kentucky bourbon in 1851—it remains the bar's signature drink to this day.
Quintessential DC Dive
Tune Inn is one of DC's last remaining true dive bars, and it's been serving Capitol Hill's bigwigs and residents since 1947. The funky spot filled with memorabilia and taxidermy is still a local favorite for cheap pitchers of beer and fried everything, including fried pickles, fried mushrooms, and a beer-battered burger.
Most Influential Venue
Since opening in a hidden spot above a mattress store in 1995, Dupont Circle's Eighteenth Street Lounge changed the city's nightlife scene. Even today, just a small plaque marks the spot, and it remains the place to drink cocktails on vintage velvet banquettes in what feels more like a cool house party than a bar.
Best Gay Bar
Located in the heart of Dupont Circle, DC's historic gay neighborhood, JR's Bar is always packed with a lively crowd for happy hour specials like all-you-can-drink for $15, showtunes nights, and live cabaret. If you're headed to the city in June, check out the bar's large covered patio—it's the rainbow-covered place to be during DC Pride.
Unique Cocktail Experience
For a creative new spin on the cocktail experience, try the three- or five-course cocktail tasting menu at Columbia Room (don't worry, there are snack pairings). For those interested, they also offer mixology classes. If you prefer à la carte, sip riffs on the classics from a comfy leather chair in the bar's Spirits Library or bottled cocktails in the outdoor Punch Garden.
Best Chance to Dance All Night
Since 1993, Black Cat has been one of the best places to dance the night away. The 7,000-square-foot main stage has hosted Arcade Fire, Death Cab for Cutie, The Killers, and more, while a smaller stage and bar is open most nights for local bands and DJs. Don't miss out on the theme parties like Eighties Mayhem and The Cure vs The Smiths, and remember to bring cash: you'll need it for both the venue cover and the bar.
Best Live Music Venue
Even Rolling Stone and Billboard agree that 9:30 Club is, simply put, an institution. It opened in a tiny Chinatown building in 1980, and despite a capacity of 200, welcomed acts like Nirvana, R.E.M., and the Red Hot Chili Peppers. Today they've moved to a decidedly larger location, but the sold-out shows for local bands like Thievery Corporation still feel wonderfully intimate.
Sunday Funday
Okay, it doesn't technically qualify as nightlife—but the all-you-can-eat drag brunch is one of the biggest draws at Nellie's Sports Bar, a local favorite named after the owner's great grandmother and great-great grandmother. After brunch, soak up the sun into the evening on the expansive rooftop.
Best for Whiskey Lovers
Jack Rose Dining Saloon is a multi-level bar and restaurant that has more than 2,500 bottles of whiskey and Scotch from around the world. Saddle up to the main wooden bar in the saloon for flights, cocktails, and hearty American fare, or decamp to the speakeasy-style whiskey cellar, which serves whiskey on tap and rare bottles by reservation only. When the weather's nice, head to the open-air terrace and separate tiki bar for fun, seasonal libations.
Best for People-Watching
Come for the extensive cocktail menu and dimly lit bar, stay for the people-watching: you never know who you'll meet at The Lounge at Bourbon Steak, a favorite of celebrities and socialites. If you get hungry, the burgers are good, or you can make your way to the namesake restaurant, a pricey steakhouse by Michael Mina.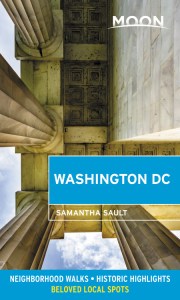 From strolling the National Mall to hobnobbing at happy hour, get to know the nation's capital with Moon Washington DC.
Pin For Later