L.A. Nightlife: The 10 Best Bars in Los Angeles
Nights in L.A. are electric: there are rooftop bars, festive salsa clubs, '90s dance parties, Old Hollywood haunts, and so much more. From WeHo's legendary clubs and gay scene to dive bars in Silver Lake and chic pools with bottle service, downtown Los Angeles offers a variety of nightlife hotspots, whatever your pace.
Here are the 10 best bars in Los Angeles to hit on your next trip.
Best Dirty Martini
Opened in 1919, Musso & Frank Grill (6667 Hollywood Blvd., 323/467-7788; Tues.-Sat. 11am-11pm, Sun. 4pm-9pm) is a Hollywood institution. Sipping on one of Musso & Frank's famous dirty martinis (with blue cheese-stuffed olives!), you can imagine all of the movie ideas that were born here over the past century. Truth be told, people come here more for the ambience than the food, but its classic Italian American fare is pretty decent. Musso & Frank's is right in the center of Hollywood Boulevard, making this a good place to fill your belly and drink a few strong cocktails before starting your night out.
Best Beachy Vibe
Think of The Bungalow (101 Wilshire Blvd., 310/899-8530; Mon.-Fri. 5pm-2am, Sat. noon-2am, Sun. noon-10pm) as an upscale, beachy cocktail bar, the kind of place you'd wear your sandals that are too nice to actually wear to the beach. The Bungalow is housed in the Fairmont Miramar Hotel, a grand beachside compound that feels very much the place to be on weekends. Order a potent margarita at the bar, and then head outside to lounge by the fire pits, play beer pong, or watch the sun set over the Pacific. There may be a line to get into the Bungalow on weekends.
Best Dance Club and Cigar Lounge
From the music to the people to the professional dancers, La Descarga (1159 N. Western Ave., 323/466-1324; Tues.-Sat. 8pm-2am) is hot. On weekends, wait in line for a bit, pay a small cover charge, and then get excited as you head downstairs to the throbbing dance floor. Drinks are strong and the beats are infectious, so don't be surprised if you find yourself dancing for hours. Once your feet are tired, you can head to the cigar lounge for a more low-key vibe. The dress code is strict—the club requires "upscale attire" for entry (see the venue's website for the long list of details). Reservations can be made online and are highly encouraged.
Best LGBTQ Scene
There's something irresistible about The Abbey (92 N. Robertson Blvd., 310/289-8410; Mon.-Thurs. 11am-2am, Fri. 9am-2am, Sat. 6am-2am, Sun. 9am-2am). Perhaps it's the scantily clad men, happily dancing on elevated stages, or the booming remix of Cher's "I Believe in Life After Love." Or maybe it's the rich history of this venue that is part of the bedrock of West Hollywood's gay community. Whatever the reason, the Bravo TV network took notice of The Abbey and in 2017 started a reality show that takes place in its expansive indoor/outdoor club space. We locals have always noticed The Abbey—we come here for boozy brunch on Sundays and dance parties on Thursdays. Expect a line for entry on Thursday, Friday, and Saturday nights.
Best Poolside Chic
Skybar at the Mondrian Los Angeles (8440 Sunset Blvd., 323/848-6025; Mon.-Fri. 11am-2am, Sat.-Sun. 10am-2am) has everything you might expect of one of L.A.'s favorite rooftop bars: a glimmering pool, cushy lounge chairs, fantastic city views, and DJs spinning buzzing beats. It also has very pricey cocktails, served with an I'm-cooler-than-you vibe. You can pay for bottle service and sit at one of Skybar's coveted tables, or sip your cocktail standing up. Either way, Skybar is a posh place to spend a balmy evening. There's usually a line for entry on weekends.
Best Tiki Kitsch
Serving up almost 100 tropical-themed cocktails, Tiki-Ti (4427 Sunset Blvd., 323/669-9382; Wed.-Sat. 4pm-2am) is a small and mighty old-school tiki bar that has been a Los Angeles favorite since 1964 (before the east side was uber-cool). It's tiny in here—there are only 12 barstools—but what Tiki-Ti lacks in size it makes up for in character. Its walls are decorated with Polynesian and other indigenous décor, and its friendly bartenders are ready and willing to make you a sweet and strong tropical cocktail (or two or three). Tiki-Ti is only becoming more popular, so there may be a line to get in the door on weekends; it's worth the wait.
Best Place to Spot a Real Housewife
Founded and operated by Real Housewives of Beverly Hills star Lisa Vanderpump, the dimly lit Pump restaurant and bar (8948 Santa Monica Blvd., 310/657-7867; Mon.-Fri. 5pm-2am, Sat.-Sun. 11:30am-2am) is the setting for the reality TV show Vanderpump Rules. Even if you don't like reality TV, Pump's garden-like patio is still a beautiful place to enjoy a few cocktails. House music lightly thumps in the background, glittering chandeliers dangle from low-hanging trees, and everywhere you look are subtle hints of pink, Lisa Vanderpump's favorite color. Start your West Hollywood evening at Pump, and then head next door to The Abbey to dance the night away.
Best Live Indie Music
The Satellite (1717 Silver Lake Blvd.; hours and prices vary, check online for details) has become synonymous with live music on the east side. Its narrow stage has hosted dozens of well-known musicians over the past few decades, including the White Stripes and Death Cab for Cutie. This intimate venue is a great place to catch a concert, play a game of pool, and meet a diverse group of Silver Lake friends. What's more, The Satellite has maintained its cheap drinks and divey feel over the years, even as Silver Lake has grown up around it. Every Saturday night, The Satellite hosts an indie-electronic dance party called "Dance Yourself Clean" (named after an LCD Soundsystem song). Admission for all shows is 21 and over.
Best Rooftop Bar
If you're an unfathomably cool, impossibly beautiful hipster in your 20s, the Upstairs Bar at the Ace Hotel (929 S. Broadway, 213/623-3233; daily 11am-2am; no cover) is the place for you. Seriously. Upstairs Bar has become the hippest place to hang out on a Downtown afternoon. There are DJs, live bands, and even a teeny-tiny pool. So pull up a tanned leather chair to a tree-trunk table, order one of the bar's creative cocktails, and post up for an elegant (and sometimes rowdy) evening of people-watching.
Best Repurposed Space
The Edison (108 W. 2nd St. #101, 213/613-0000; Wed.-Thurs. 5pm-midnight, Fri.-Sat. 7pm-2am) is an underground bar—literally. It's housed in what was one of L.A.'s first electric power plants, built in 1910. This is a dark, sexy space, filled with plush leather lounge chairs and well-dressed clientele. There's live music featuring 1920s tunes on weekdays and DJs on weekends. The Edison's menu is filled with a wide selection of cocktails and other libations; the Dead Man's Hand, for example, mixes double rye whisky, brown sugar, sarsaparilla, whisky-barrel bitters, and orange zest.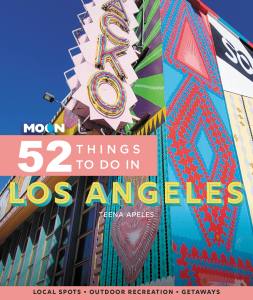 From the market you haven't hit yet to the desert getaway you keep meaning to plan, experience something new right here at home with Moon 52 Things to Do in Los Angeles.
Pin For Later