Weaving and Carving in Hawaiian Culture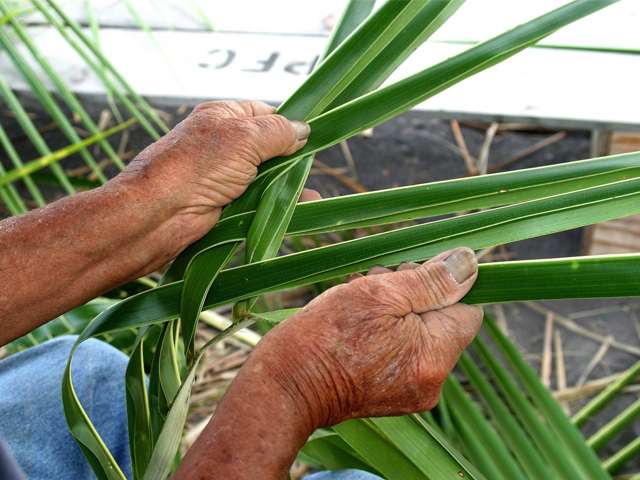 Hawaiians became the best basket makers and mat weavers in all of Polynesia. Ulana (woven mats) were made from lau hala (pandanus) leaves. Once split, the spine was removed and the leaves stored in large rolls. When needed they were soaked, pounded, and then fashioned into various floor coverings and sleeping mats. Intricate geometrical patterns were woven in, and the edges were rolled and well fashioned. A wide variety of basketry was made from the aerial root 'ie'ie, and the shapes varied according to use. Some baskets were tall and narrow, some were cones, others were flat like trays, and many were woven around gourds and calabashes.
Wood was a primary material used by Hawaiian artisans. They almost exclusively used koa because of its density, strength, and natural luster. It was turned into canoes, woodware, calabashes, and furniture for the ali'i. Temple idols were another major product of woodcarving. A variety of stone artifacts were also turned out, including poi pounders, fish sinkers, and small idols.
The most respected artisans in old Hawaii were the canoe makers. With little more than a stone adze and a pump drill, they built canoes that could carry 200 people and last for generations—sleek, well-proportioned, and infinitely seaworthy. The main hull was usually a gigantic koa log, and the gunwale planks were minutely drilled and sewn to the sides with sennit rope. Apprenticeships lasted for years, and a young man knew that he had graduated when one day he was nonchalantly asked to sit down and eat with the master builders.
Small family-sized canoes with outriggers were used for fishing and perhaps carried a spear rack; large oceangoing double-hulled canoes were used for migration and warfare. On these, the giant logs had been adzed to about two inches thick. A mainsail woven from pandanus was mounted on a central platform, and the boat was steered by two long paddles. The hull was dyed with plant juices and charcoal, and the entire village helped launch the canoe in a ceremony called "drinking the sea."
---
Related Travel Guide