These free, printable travel maps of Argentina are divided into eight regions:
Explore Argentina with these helpful travel maps. Ensure you have the newest travel maps from Moon by ordering the most recent edition of our travel guides to Argentina and Buenos Aires.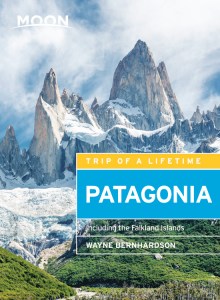 Patagonia's staggering landscapes, titanic glaciers, and rugged mountains evoke mystery and inspire self-discovery. Explore the ends of the earth with Moon Patagonia.
---
Buenos Aires and Vicinity
Buenos Aires is Patagonia's primary gateway and also South America's highest-profile capital. Many visitors spend weeks or even months enjoying its first-rate hotels, innovative cuisine, all-night entertainment, nonstop shopping, and matchless cultural resources. Despite its international sophistication, it's also a city of intimate neighborhoods where no one is truly anonymous.
---
Pampas
---
Mesopotamia and The Parana
---
Cuyo and Córdoba
---
The Andean Northwest
---
Northern Patagonia
Northern Patagonia comprises Neuquén and Río Negro, plus northwesterly parts of Chubut. While most of Argentine Patagonia is arid steppe, the densely forested sector near the Chilean border boasts numerous national parks. San Carlos de Bariloche is the country's playground for hiking, skiing, rafting, kayaking, and fly-fishing.
---
Southern Patagonia
Southern Patagonia consists of Chubut province and Santa Cruz province. Its coastline is a scenic cornucopia of whales, seals, penguins, and other wildlife. It's also famous for Glaciar Perito Moreno, a crackling outlier of the Campo de Hielo Sur, the southern Patagonian ice sheet. Two legendary highways, the coastal RN 3 and the interior RN 40 connect the region with northerly provinces.
---
Tierra del Fuego and Chilean Patagonia
If Patagonia is exciting, the archipelago of Tierra del Fuego (Land of Fire) is electrifying. Labeled the "uttermost part of the earth" for its splendid isolation at the continent's southern tip, it's still a place where fur seals, sea lions, and penguins cavort in the choppy seas of the Magellan Strait. From the seashore, behind its capital of Ushuaia, glacial horns rise like sacred steeples. The beaches and southern beech woodlands of Parque Nacional Tierra del Fuego, west of the city, are the terminus of the world's southernmost highway.