These free, printable travel maps of British Columbia are divided into eight regions:
Explore British Columbia with these helpful travel maps. Ensure you have the newest travel maps from Moon by ordering the most recent edition of our travel guides to British Columbia and the cities of Victoria and Vancouver.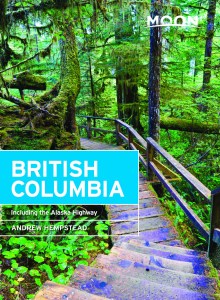 British Columbia is filled with vibrant cities, secluded beaches, and old-growth rainforests. Explore it all with Moon Travel Guides.
---
Vancouver, Victoria, and Vancouver Island
Vancouver's downtown core of century-old buildings and steel-and-glass skyscrapers overlooks busy waterways. Sandy beaches and rocky shorelines fringe manicured suburbs.
The elegant capital of British Columbia couldn't be more different from its much larger neighbor, Vancouver. Well-preserved buildings line the streets. Totem poles sprout from shady parks. Restored historical areas house trendy shops, offices, and exotic restaurants.
---
Southwestern British Columbia
Exploring southwestern BC is like taking three very different vacations. The Sunshine Coast spreads out to the north, attracting families, scuba divers, and sun-loving Canadians. The Sea to Sky Highway leads to Whistler, a hip, outdoorsy resort town of epic proportions.
---
Okanagan Valley
Around 180 kilometers (112 miles) from end to end, the gorgeous Okanagan Valley is dotted with orchards and wineries, the latter a major attraction. But if the only thing you know about wine is that you like it, no worries—wine -tasting in the Okanagan Valley is a completely unsnobby affair.
---
The Kootenays
Named for its original inhabitants, the Kootenay region is monotonous—in an overwhelmingly beautiful, mountain-and-lakes kind of way. Alpine snowfields feed mighty rivers and massive lakes, creating a recreational playground for anglers, canoeists, and kayakers.
---
Canadian Rockies
Welcome to the Canadian Rockies, a vast wilderness where wildlife is always abundant and hiking trails always scenic. The region is at its most breathtaking at Lake O'Hara in Yoho National Park, while adjacent Kootenay National Park offers up more magnificent Canadian wilds, along with hot springs.
---
Central British Columbia
Cutting a swath across the province, the central region of British Columbia is extremely diverse. To the east, a series of glaciated mountain ranges are protected by Glacier and Mount Revelstoke National Parks, which offer accessible adventure.
---
Northern British Columbia
Northern BC is a long way from anywhere else. You won't see famous attractions. Instead, you'll find lakes and forest and lots of both. Small towns provide excellent access to outdoor activities, as well as a little bit of pioneering history. The coastline is mostly inaccessible, but where highways push down to the ocean, Prince Rupert and Stewart offer scenic rewards.
---
The Yukon
Linked to British Columbia by the Alaska Highway, the Yukon is a continuation of the forested wilderness. Many visitors pass right through on their way to Alaska, but it's worth lingering to explore the natural wonders of Kluane National Park, the modern frontier delights of Whitehorse, and the world's most famous Gold Rush town, Dawson City.