These free, printable travel maps of Cambodia are divided into six regions:
Explore Cambodia with these helpful travel maps. Ensure you have the newest travel maps from Moon by ordering the most recent edition of our travel guide to Angkor Wat.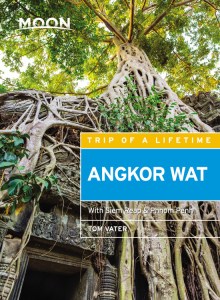 The ancient temples at Angkor Wat are unlike anything else on earth. Step back in time and take the trip of a lifetime with Moon Travel Guides.




---
Travel Maps of Cambodia
---
Siem Reap
In little more than a decade, Cambodia's temple town has developed from a few blocks of crumbling colonial architecture into a bustling tourist mecca. The jumping-off point for the main monuments of the Angkor Empire, Siem Reap remains the country's cleanest, safest, and best organized town.
---
Angkor
Temples, temples, and more temples. The Angkor Archaeological Park, a UNESCO World Heritage Site, is not only a tourist magnet attracting two million visitors each year but also the spiritual and cultural heart of Cambodia.
---
Phnom Penh
Cambodia's capital has come a long way in the last decade, from a dangerous backwater to a bustling, dynamic, and somewhat chaotic boomtown, and it has rediscovered some of its Old World charm in the process. Add to that street markets, art galleries, and a few museums that are doing a good job at presenting both Cambodia's Angkor era as well as its more recent catastrophic turmoil.
---
Tonlé Sap Basin
Battambang, to the south of Siem Reap, is Cambodia's second-largest city and offers a laid-back atmosphere, the best circus in Asia, excellent accommodations, great art galleries, and fantastic trips into the surrounding countryside.
---
Northeastern Cambodia
Remote temples such as Sambor Prei Kuk and Preah Vihear have become more accessible in recent years but are less crowded than the main sites, although this may change in coming years.
---
The Coast
The beaches around Sihanoukville are the main draw—and are an excellent place to relax after traveling the dusty Cambodian roads, while Kep-sur-Mer, commonly known as Kep, offers a truly surreal sight: a hundred ruined villas and holiday homes of Cambodia's 1960s high society lingering in the jungle. Explore secret tunnels, ancient Buddha shrines, national parks and more in this region.