Top 10 Things to Do in Tahoe and Reno
No matter the season, adventure abounds in Tahoe: Rush down slick slopes in winter, wander through golden valleys in the fall, trek past wildflowers in spring, or cliff dive into the crisp lake in the summer.  To the east, the granite mountains give way to stark desert and Reno, a town whose Wild West saloon hospitality blends with a modern sensibility. If you've got a long weekend to fill, here are the top ten things to do in Tahoe and Reno:
1. Ski and snowboard
Skiers and snowboarders have tons of options to choose from in Tahoe: The area has the highest concentration of ski resorts anywhere in the United States. Whether you head straight for double black diamonds or are just starting out, Tahoe has an option that will get you excited about hitting the slopes.
2. Take a hike
The Tahoe and Reno area is a mecca for hikers. Whether you want to bag peaks, stroll lakeside, wander through meadows, or trek to alpine lakes, the region delivers—with thousands of miles of hiking trails. In spring, the trails are quiet, and the mountains are still snow-capped. In the summer, wildflowers explode with color. In fall, the leaves blaze yellows and reds. Come winter, many hiking trails are still usable by strapping on a pair of snowshoes.
3. Hit the beach
Bask in the sun on Tahoe's inviting beaches. Travelers can wiggle their toes in the warm sand, swim in the clear waters, and marvel at the marvelous landscape. From remote hike-in coves to sweeping stretches of sand close to town, there is a Tahoe beach for every occasion.
4. Get artsy in Reno
Colorful murals, Burning Man sculptures, and world-class exhibits: You don't have to spend much time in Reno to know that this town takes its art seriously.
5. Catch the sunset
Watch the sun sink into the lake from the granite crags of Cave Rock, or get up close and personal with Tahoe's cobalt blue waters on a sunset cruise. There are lots of charter and tour-boat options around, but there's nothing quite like sailing at sunset to Tahoe's most iconic spot, Emerald Bay—where you can experience the beauty of the lake surrounded by the peaks of the Sierra Nevada with the wind in your hair.
6. Celebrate!
There's always fun to be had at a local festival, whether you're dancing on the sand to live music, seeing a Shakespeare play, or heading for the sky in a hot-air balloon.
7. Drive around the lake
Make the spellbinding drive around Lake Tahoe's 72-mile border. Make a trip out of it, stop at scenic viewpoints, and spend time meandering through charming mountain towns.
8. Sample some local brews
An exciting craft-brew scene has emerged in Tahoe and Reno. All throughout the region, brewers are pushing boundaries with everything from saisons to stouts. See what's on tap at award-winning craft breweries, or opt for something with a stronger kick at high-tech distilleries.
9. Ride back to the Wild West
In nearby frontier towns you can soak in hot springs, tour historic silver mines, and raise a glass at Nevada's first bar.
10. Paddle Emerald Bay
While many people crowd around Inspiration Point and hike down to Vikingsholm for breathtaking views of Emerald Bay, far fewer explore the bay itself. Paddling through by kayak is the best way to admire the towering Sierra, scenic shoreline, pine forests, and crystalline waters.
---
Start planning your adventure today: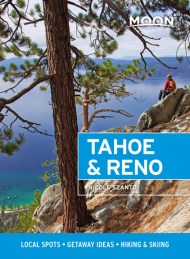 From the glittering lake and trail-lined mountains to Old West towns and artsy urban centers, experience the best of this adventurous region with Moon Tahoe & Reno.