With 80 miles of coastline, San Diego's got more than its fair share of beaches. It's hard to be humble: They're pretty fantastic. Some of San Diego's beaches are framed by wind-hewn cliff faces, creating gorgeous scenery when you're on the beach looking out at the water as well as when you're out in the water looking back at the beach. Everybody has a favorite beach in the area—even the dogs. We've narrowed the list down to our top 5 to help you choose the one that's right for you.
Coronado Beach
Coronado Beach is a long stretch of sand that starts at historic Hotel del Coronado and runs north to a dog-friendly beach. In between are families and couples quietly appreciating its beauty. Routinely listed among the best beaches in the United States, Coronado Beach is what makes this place a dreamy summer destination.
Even during fall and winter months, the beach is protected from both large surf and the atmosphere's marine layer by the whale-shaped point of Point Loma, visible on the north horizon; so while beaches elsewhere may be overcast and full of rip currents, Coronado should be just about right. Bear in mind that when big waves do hit this beach, it ceases to be an ideal place for less-experienced swimmers.
There are several access points from Ocean Boulevard along the mile-long beach. In front of the Hotel del, you may rent cabanas and order drinks; you'll find fire rings at the north end, while volleyball courts, bathrooms, and showers are near the main lifeguard tower manning the central beach.
La Jolla Shores
La Jolla Shores offers a wealth of water sports, a playground, more than a mile of gorgeous sand, and a large parking lot that fills quickly in summer. One of the most popular beaches in town, it offers more than a mile of sand where beach lovers can swim, surf, bodyboard, play volleyball, scuba dive, and launch small watercraft. A beachside park and playground round out the family-friendliness of the place, which also has restrooms, showers, picnic tables, and fire rings near a public parking lot. It's extremely crowded in summer, when small, easy waves and warm water are the norm.
Mission Beach
Mission Beach has Belmont Park, a seaside amusement park with a roller coaster and an artificial wave where surfing performances are regularly staged throughout the day. Bikes and skateboards roll past on the boardwalk, giving even older children plenty to see and do.
You can cruise about two miles along Mission Beach Boardwalk and still not run out of beach or boardwalk. Dubbed the "Golden Strand," it runs from South Mission all the way north to Pacific Beach. That long stretch in the middle? That's Mission Beach. It's most commonly identified with the beach in front of Belmont Park, where crowds congregate all summer.
Runners, cyclists, and skaters of every stripe cruise past this beach year-round. The large parking lot by the park is set up with restrooms, showers, picnic tables, volleyball nets, and fire rings, but the whole thing stretches more than a mile, so if you can find street parking along Mission Boulevard north of there, you'll find relatively uncrowded stretches of beach, which the lifeguards split intermittently into swim and surf zones. You may go where all the action is, or you may choose to settle on an empty spot on the sand and enjoy.
Ocean Beach
Ocean Beach (OB) is a popular spot for young adults, who come here regularly to surf, swim, play volleyball, run their dogs, and gather around summer bonfires. This half-mile stretch of sand runs from the OB Pier in the south to the shallow San Diego River bordering the beach's northern edge. Around the pier are surfers and some saltier souls who earn the place comparisons to Venice Beach.
Move north to find a welcoming stretch of sand with beach volleyball courts and areas designated for swimming and bodyboarding. Beach bonfires (within designated fire rings) are popular on summer nights, and fishing off the pier takes place daily. Parking lots are at the ends of Voltaire Street and Santa Monica Avenue, with showers and restrooms beside each. Lifeguards monitor the beach daily.
Pacific Beach
Pacific Beach offers a beach experience with a party atmosphere, with people (mostly young adults, including lots of singles) partying at the edge of the sand. They used to party on the sand until a city beach alcohol ban was put into effect, but the beachfront bars and restaurants ensure that the good times continue, especially south of Crystal Pier. North of the pier tends to be a little quieter, with swimming, surfing, and beach volleyball just a few of the popular activities. Fishing is allowed on the pier itself, and close by you'll find showers, restrooms, and lifeguards always on duty.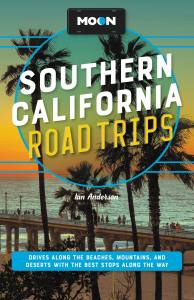 Hit the beach, hike hidden trails, or soak up some desert sun: the outdoor adventures are endless with Moon Southern California Road Trips.
Pin For Later