Planning Your Time on Colombia's Pacific Coast
Colombia is the only country in South America with coastline on both the Atlantic and the Pacific Oceans. While the Caribbean coast is developed and populated, Colombia's Pacific coast is wild, remote, and mysterious. For the few who venture to this little-visited area, the beaches, jungles, and people are simply unforgettable.
The Pacific coast of Colombia extends for 1,392 kilometers (865 miles), just under the length of the California coast. The departments of Chocó, Valle de Cauca, Cauca, and Nariño each share real estate on the Pacific, with Chocó boasting the largest stretch of coast. The tiny islands of Gorgona and Malpelo, both national parks, are 35 kilometers (22 miles) off the coast of Guapi and 490 kilometers (305 miles) from Buenaventura, respectively.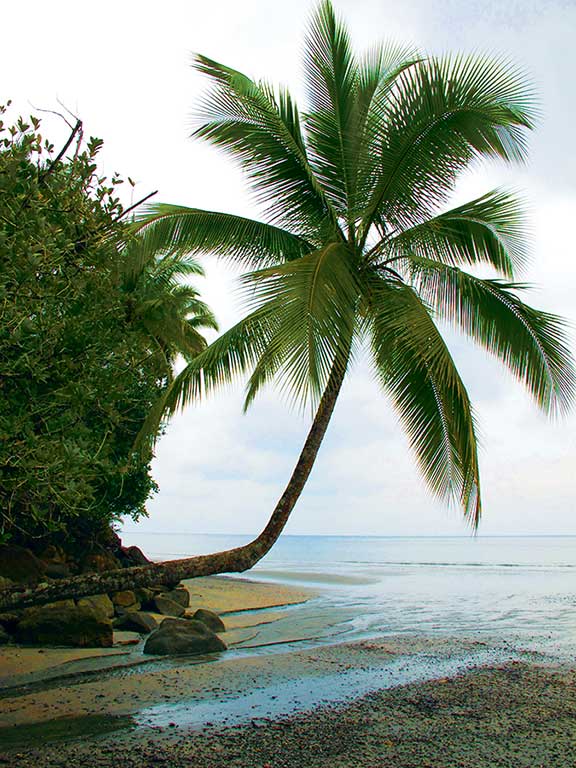 The Pacific coast is populated by indigenous peoples, primarily the Emberá, who live mainly in small riverside settlements in the interior of Chocó; colonos or "colonists" who have arrived from Antioquia for generations; and Afro-Colombians, descendants of African slaves who make up the majority of the population (over 80 percent).
It is a sparsely populated region, but there are three major cities: Buenaventura (pop. 363,000), Colombia's most important port; Tumaco (pop. 188,000), bordering Ecuador; and Quibdó (pop. 162,000), the interior capital of the department of Chocó. Those cities are of far less interest to tourists than the coastal towns of Nuquí and Bahía Solano, where both sea and land provide countless opportunities to appreciate the natural world.
There are four national parks or protected areas on the Pacific coast. These include the Parque Nacional Natural (PNN) Utría, halfway between Bahía Solano and Nuquí; the less visited PNN Sanquianga near Tumaco; the PNN Isla Gorgona, a spectacular island park that was once a prison; and the Santuario de Fauna y Flora (SFF) Malpelo, an internationally known wildlife preserve that offers superb diving.
Safety
Though most of the coastal settlements of interest to tourists are quite safe, parts of the Pacific, especially in the Nariño department bordering Ecuador and the Chocó department bordering Panama, remain major drug-trafficking corridors. The abrupt geography, dense jungle, easy water transportation routes, and lack of government border control have attracted drug traffickers, paramilitaries, and FARC guerrillas alike. With a strong and visible police and military presence, the Bahía Solano-Nuquí area is considered safe. Those towns are OK to walk around at night. The interior jungles of the Pacific provide cover for drug traffickers and illegal groups. Ask hotel staff for updated security tips.
Planning Your Time
It requires more effort (and more money) to visit the Pacific coast than other parts of Colombia, so it would be a shame to just spend just a couple of days there. Plan for about five days, split across two locations. Visit between July and October, when humpback whales travel 8,000 kilometers from Antarctica to give birth to their young in the warm waters off of the Colombian coast.
Fly into Bahía Solano and fly out of Nuquí, spending two or three days in each area, and staying within the Chocó department. Time here can be complete beach relaxation, filled with activities such as jungle hikes and canoe trips, or a combination of both.
There is not much activity at night, save for some excellent stargazing on the beach, at least in northern coastal communities. This might be the perfect place to decompress and catch up on sleep.
Three full days are sufficient to visit Parque Nacional Natural Isla Gorgona. If you plan on diving or lessons, spend a full week.
Tourism picks up during humpback whale-watching season, especially during Colombian school vacations in August. The end-of-year holiday season is also a popular time, especially for Colombian families. Reserve far in advance to stay at some of the higher-end hotels during the holidays. Other times of the year are fairly quiet.
Regardless of where you go, it will rain during your stay, maybe once or twice a day. Chocó is one of the rainiest places on the planet.
Romantic cobblestone streets and ancient ruins, golden beaches and turquoise waters: Colombia's Caribbean coastline offers relaxation and adventure in equal measure. Dive right in with Moon Cartagena & Colombia's Caribbean Coast.
Pin it for Later