Laissez les bon temps rouler: Let the good times roll. This motto is at the heart of Mardi Gras, where for a few blissful weeks people live life to the fullest. But your trip to New Orleans could flop without careful planning: luckily, here are 10 ways to make sure you have the perfect Mardi Gras.
1. Know when to go.
Carnival season technically begins on January 6 (known as Twelfth Night, or the Feast of the Epiphany), but Mardi Gras Day shifts every season from mid-February to early March. Mardi Gras parades usually start about two weeks prior to Fat Tuesday, but most revelers venture to New Orleans for the weekend preceding the climactic day—from the Friday before Fat Tuesday through midnight on Mardi Gras.
2. Know where to stay and book ahead.
Make reservations well in advance. Note that many hotels require a minimum stay of three nights during Mardi Gras weekend, and costly special-event rates may apply. Although you'll find cheaper hotels near the airport, staying there will require renting a pricey car and enduring long commutes to reach the main festivities. You'll save time by staying in a more convenient neighborhood, such as the French Quarter. For a good night's sleep, stay in the CBD or Faubourg Marigny districts, both of which lie within walking distance of the Quarter. As an alternative, you can stay in some of the quieter inns throughout the Garden District, Uptown, and Mid-City, most of which are accessible via the streetcar lines.
3. Pick your neighborhood.
Mardi Gras is intense, so pick your neighborhood to get your ideal dosage. If you seek debauchery, the French Quarter will not let you down. However, celebrations elsewhere in the city—notably in Uptown along the St. Charles Avenue parade route or in Metairie along Veterans Memorial Boulevard—are much more family-oriented and tend to be dominated by locals, or at least Louisianians.
4. The best deals are online.
Utilize Facebook, Twitter, and other social networks for last-minute hotel deals, ride-sharing possibilities, and other ways to save time and money during peak travel weeks. The New Orleans CVB routinely posts information about upcoming events, so check in regularly!
5. Beware of scams.
Many residents rent out rooms and cottages for Mardi Gras visitors. While you may find a good deal this way, make arrangements as early as possible and be aware of unscrupulous landlords.
6. Plan your transportation.
During Mardi Gras, the French Quarter is closed to non-essential vehicular traffic. Hailing a cab can be difficult (even with ridesharing, the streets are full of people), so many visitors prefer getting around town via bus, streetcar, or foot. Some even opt to rent a bicycle (or bring their own).
7. Stake out seats.
If you want to be close to the floats, you'll need to arrive several hours early. For major parades, such as Endymion, many people set up blankets, chairs, and ladders the day before, and stay with them, as it's illegal to leave such marked areas unattended. Pick a spot near a public restroom, and bring snacks, beverages, and portable chairs. Given the influx of out-of-towners, make reservations at your can't-miss restaurants or dine at off-peak times.
8. Prepare for mayhem.
The French Quarter might be the rowdiest neighborhood, but city festivals are prime events for boisterous crowds and opportunistic crime. Visit with a friend (or several), arrange regular meeting spots when splitting up, and keep an eye on your wallet. Float riders in the major parades, like Endymion and Bacchus, tend to hurl trinkets with unnecessary force, so look out.
9. Wear a costume.
On Mardi Gras Day, you'll see costumed revelers dressed as everything from pop culture icons to political statements. Do as the locals do and wear a costume (or at least purchase a mask, available in shops throughout the Quarter); it might even get you cheaper invitations to a Mardi Gras ball! Remember to prepare for the possibility of cold, rainy weather, which is common in February and March.
10. Eat king cake.
King cake, essentially a giant cinnamon roll, is the season's most famous treat. Grab a slice at a local coffeehouse or pick up an entire cake at places like Rouses Market, Gambino's Bakery, Haydel's Bakery, Maurice French Pastries, and the seasonal Manny Randazzo King Cakes.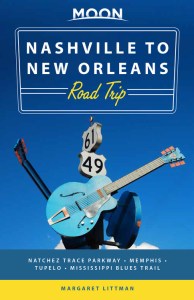 Hop in the car and set off on an adventure along the Natchez Trace Parkway, from the country music capital to the birthplace of jazz.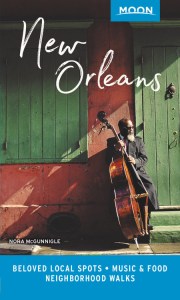 The spicy scent of crawfish, the crooning of a corner saxophonist, the refreshing sip of an authentic Sazerac: New Orleans is a true sensory feast. Take a bite out of the Big Easy with Moon New Orleans.

Pin For Later