Best Natchez Trace Lodging
A road trip along the Natchez Trace Parkway originates in Nashville, crosses through Tennessee, cuts across a corner of Alabama, and then traverses much of Mississippi before ending in Natchez. From there, you're just a short drive from New Orleans.
To help you choose where to stay each night along this scenic 444-mile route, we've gathered together our favorite cabins, B&Bs, campgrounds, and hotels. Whatever your preference, you'll find great lodging options for your trip along the Natchez Trace.
Tennessee
Franklin
The log cabin that is now The Cabin at Cedar Run Farm (5330 Old Harding Rd., 615/799-9391, $175-250) may have been built in 1840, but this isn't roughing it. The two-story cabin has a full kitchen, Internet access, and a cute front porch perfect for sipping your morning coffee.
Columbia
Built in 1960, the Inn at Bigby Creek (1306 Trotwood Ave., 931/982-6226, $125) might be more modern than the word "inn" usually conjures up. But this house, the former home of a Columbia mayor, is a perfect getaway. There are three guest rooms, with amenities like free Wi-Fi, private bathrooms, high-end sheets, and a full breakfast. Stroll through the 1.5 acres before continuing your travels.
Hohenwald
The Meriwether Lewis Monument and Gravesite Campground (800/305-7417, free) has 32 campsites. There are no fees and reservations are not accepted; this is a first-come, first-served situation. There's a cross-section of wooded, secluded spots, and some with wide-open views of the landscape. All of the spots are fairly close to one another, but thanks to the foliage that grows so quickly in this climate, you won't feel like the folks in the site next to you can see into your tent.
Sometimes you're traveling with folks who want different things. Some people want to pitch a tent, while others want a real mattress. At Fall Hollow B&B and Campground (1329 Columbia Hwy., 931/796-1480, primitive campsites $20, RV sites $40, rooms $80-100), both options are possible. The B&B has two motel-style rooms, plus two rooms in the main house; rates include breakfast. The campground has 21 RV hookup sites, plus tent camping and a bathhouse with heated showers.
Alabama
Sheffield
You don't have to be famous (or talented) to stay at Muscle Shoals Music House (117 Lakewood Dr., 256/436-9990, $109-119). This two-room B&B on the banks of the Tennessee River claims to be where Bob Dylan and others stayed when they came to record at Muscle Shoals Sound Studio. Room rate includes breakfast. Free Wi-Fi is offered. A two-night stay is required.
Florence
The area's most luxurious hotel is the Marriott Shoals Hotel & Spa (10 Hightower Pl., 256/246-3600, $124-154). The 360-degree views from the top of the hotel are unparalleled. Rooms include free mini-fridges and are pet-friendly (additional $75 fee). The hotel has both indoor and outdoor pools, a fitness center, a spa, and two onsite restaurants.
The Residence Inn Marriott (1000 Sweetwater Ave., 256/764-9966, $89-139) is a surprising find. The all-suites hotel features rooms with kitchens, a nice pool with outdoor seating, and an outdoor barbecue area. The hotel has green hotel certification, nice sculptures in the hallways, and decent views. The free breakfast has plenty of gluten-free and non-pork options.
If you want the great outdoors, combined with great fishing, plan to rest at Joe Wheeler State Park (4403 McLean Dr., 256/247-1184, $77-222 rooms and cabins, $25-29 campsites). This 2,550-acre park on Wheeler Lake includes a lodge with restaurant and convention center, an 18-hole golf course and clubhouse, marina, and campsites (both modern sites with amenities and primitive ones).
Northern Mississippi
Less than three miles from Cave Spring and just 0.75 mile off the parkway is Bear Creek Saloon Guesthouse (1338 MS-30, Tishomingo, 334/332-3474, $90 s, $15 for each additional guest). This unhosted guesthouse was once a family retreat and now sleeps 1-3 people (with a queen bed and twin bed). It also has a kitchen and laundry facilities. Because of its proximity to the Trace, it's perfect for those traveling by bicycle. Children are welcome, but pets are not allowed. The owners have provided a fire pit as well as information on food delivery.
Tishomingo State Park
Named for Chief Tishomingo, once leader of the Chickasaw Nation, Tishomingo State Park (105 County Road 90, 662/438-6914, $4 for up to six people) is more than 1,500 acres, a great place to recreate near the Trace. Limestone outcroppings provide the backdrop for lots of outdoor recreation options, including canoeing on 45-acre Bear Lake, fishing on well-stocked Bear and Haynes Lakes, swimming ($6 fee), picnicking, disc golf, volleyball, rock climbing, and hiking on the park's 13 miles of trails.
The park offers campsites for tents and RVs (62 sites, $13-20) and historic Civilian Conservation Corps cabins ($65-75), many of which are ringed by wildflowers and ferns in the spring. The cabins have fireplaces and screened porches. There is also an accessible cottage (linens not included). To make a reservation, call (662/438-6914) or book online.
Just before milepost 293.2, you can exit the Trace at John Rankin Highway to explore the Tennessee-Tombigbee landscape. There are eight different campgrounds managed by the Army Corps on the Tenn-Tom Waterway, five of which are in Mississippi. Piney Grove Campground (662/728-1134, starting at $22), the closest to the parkway, has 114 RV sites, with a swimming beach, laundry, electricity, and other amenities. To get there, exit John Rankin Highway (County Road 3501) and take it north to County Road 3550, about 13 miles. Entrance to the campground will be on the left. Retrace your steps to return to the parkway.
Tupelo
The Moon Lake Farm B&B (3130 Endville Rd., 662/420-1423, $129-149) has three guest rooms, all with their own entrances and decks offering great views of the property. You can fish on-site and go horseback riding.
Central Mississippi
Oxford
Walking distance to downtown, The Z Bed & Breakfast (1405 Pierce Ave., 713/927-1295, $99-135) is a quirky, homey B&B with three rooms, each tastefully and uniquely decorated. Prices include full homemade breakfast plus wine and cookies nightly. There are two bikes available for your use, plus the backyard has a fire pit and grill. The owners have two other properties in town, The Z Shanty and The White House, which are appropriate for larger parties and family reunions.
Davis Lake Campground (662/285-3264, starting at $20/night) has more than 20 campsites, 14 of which are on the lake itself. Some of the campsites have electricity, and there are showers and other amenities. Davis Lake is one of two campgrounds in Tombigbee National Forest. The other, Choctaw Lake, is south of Starkville and farther from the parkway.
Follow Davis Road to reach the park entrance and ranger station. To return to the parkway, drive east on David Road for four miles. Turn left to exit Davis Road, then right to continue south on the Trace.
Starkville
Hotel Chester (101 N. Jackson St., 662/323-5005, $115-150) is downtown's signature boutique hotel. In a restored 1925 building, Hotel Chester is a funny combination of styles and history, with modern (if small) rooms, a glass elevator, and a lobby and exterior that are old world. There are several restaurants on-site, including The Beer Garden, whose claims to fame are a menu courtesy of Gordon Ramsay and a serene patio, perfect on spring and fall nights. The included breakfast is made-to-order.
The Jeff Busby Campground (no reservations, free) has 18 first-come, first-served sites, with some primitive tent sites as well as RV sites. Most of the campsites are pullthroughs. There is also ample overflow parking. Claim your spot by pitching your tent or parking your RV. There are picnic tables and a grill at each site. The campground has bathrooms but no showers or dumping stations.
French Camp Historic District (1 Fine Pl., 662/547-6482, ) is one of the few tourist stops along the parkway. This area, named for Frenchman Louis LeFleur, who opened an inn (called a "stand") here in 1812, is today home to French Camp Academy, a Christian boarding school, as well as a collection of businesses run by the academy and its students. French Camp has a distinct vibe: part national park, part Disneyland, and part Sunday school.
The academy also runs the French Camp B&B (662/547-6835, $65-140), with an option of three different cabins and cottages, including a historic log cabin. Wi-Fi is available in the main house. There's no alcohol or tobacco permitted. The included breakfast is served at the Council House Café. Pets are permitted for a $15 fee.
Southern Mississippi
Jackson
Head to the Fairview Inn (734 Fairview St., 601/948-3429, $199-339) for a Southern experience. This former 1908 Colonial Revival mansion on the Register of Historic Places is Jackson's only small luxury hotel. Amenities include a library, bar, restaurant, spa, and lovely gardens in which to stroll. The rooms are large, some with parlors and fireplaces and giant soaking tubs. Service is attentive, but more like a B&B than a traditional hotel.
Locals love to hang at the rooftop bar of the Old Capitol Inn (226 N. State St.,601/359-9000, $99-175), which is housed in a pretty brick building that was once a YWCA. In addition to the rooftop garden, the hotel has a ballroom and Jacuzzi suites. The fitness center is next door.
Natchez
Owners Ron and Eleanor chose Natchez as their retirement destination and running a B&B as their second career, and their passion for both is clear at every turn at Devereaux Shields House (709 N. Union St., 601/304-5378, $135-188). The main house is a restored 1893 Queen Anne Victorian; down the street are four more rooms in Aunt Clara's Cottage, which is pet-friendly. Both have gardens in back and private baths, plus amenities such as white noise machines, Wi-Fi, cable, and fluffy robes. Welcome receptions with wine and cheese occur every afternoon. The common areas are as luxurious as the private rooms, and the owners are enthusiastic about helping guests see the best of Natchez.
Monmouth Historic Inn and Gardens (1358 John A. Quitman Blvd., 601/442-5852, $160-300) feels more like a resort than a B&B. There are 15 suites and 15 rooms between the historic main house and the smaller outbuildings, each with period furnishings and modern amenities. TVs and Wi-Fi are present, but hidden, so as not to detract from the old-world charm. The bathrooms are modern and luxurious. Some rooms have spa tubs or fireplaces. Fine-dining can be found at Restaurant 1818, while a full Southern breakfast is served in a garden building and evening hors d'oeuvres are in the bar. Tours of the home and grounds are offered at 10am and 2pm daily (free for hotel guests).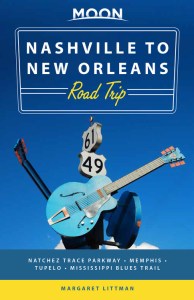 Hop in the car and set off on an adventure along the Natchez Trace Parkway, from the country music capital to the birthplace of jazz.
Pin it for Later