Should You Cuddle a Koala?
It is the most iconic souvenir picture any visitor to Australia can bring home: the one of you holding a little koala. After all, everybody will immediately know you've been to Australia. But should you get that photo? And will you actually get to hug the animal?
Picking up a koala is actually against the law in all states bar Queensland. You can get near a koala in most wildlife parks; all of the park managers are very aware that these are the most-loved animals, the ones that overseas visitors want to get close to, so they arrange feeding schedules and talks about them. In some wildlife centers you can get into the enclosure and stand next to the koala perched in its tree and get your photo done. It comes at a price—usually quite a steep price, of around $20 each and more. But even then you do not get to hold the koala, although sometimes you are allowed to stroke one gently on the back.
There is a controversy as to whether you should be able to hold a koala. After all, this is not at all natural for the animals, even if it feels like the most natural thing to us. Is it stressing them too much, is it a marketing ploy at the cost of the animals' well-being? If you are an ardent animal lover and conservationist, then the answer should be not to hug any wild animal.
But on the other hand, the koalas offered up for the picture experience are not wild, nor have they even lived in the wild, generally; the money made on the photos is often put back into caring for the koalas in the center and in the wild, and these stunts are very well organized. The time with them is strictly limited, the koalas get rest days and are never used two days in a row, and you are under the strictest instructions when you do get close to one. You must stand like a tree, arms out, and no grabbing hold of the animal. The koala will be placed on you, and your arms are gently positioned so it is comfortable for the koala, not necessarily you. No squeezing, tickling, or cuddling of any kind is allowed. Even standing like a tree, however, the experience is quite magical, with this little creature clinging onto you with its funny-toed feet and hands and its fluffy little ears sticking out in front of your face. But just to put an end to two myths: They don't smell bad (there's a little eucalyptus breath as if they've been sucking a throat lozenge), and they are not as soft as you might think—more like a well-worn fleece, slightly matted, but nice and warm.
So should you cuddle a koala? Obviously it's up to your conscience, but if you really can't resist, here is a selection of wildlife centers where you can get up close and personal to a koala:
---
Excerpted from the First Edition of Moon Sydney & the Great Barrier Reef.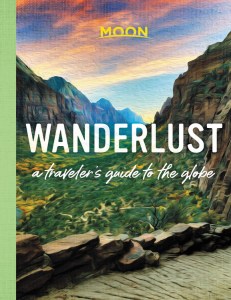 Dream, discover, and uncover your next great adventure. Moon Travel Guides takes you on a journey around the world with Wanderlust: A Traveler's Guide to the Globe.
Pin it for Later