The 6-Day Best of Cancún and the Riviera Maya
There's a lot to do in Cancún, Cozumel, and the Riviera Maya, so this itinerary packs a lot into a little time. You'll hit the beach, go diving and snorkeling, explore Maya ruins, take in a museum, discover out-of-the way places, nosh on local food, go to a nightclub or two, and still be back in time to catch your flight home. Ready, set, go!
Day 1
Arrive in Cancún. If you're staying in the Zona Hotelera, head straight to the sand after you check in—the beautiful beach will be a welcome sight after hours on a plane. If you're staying downtown, you can either hop on a bus to the beach or stroll around Parque Las Palapas. In the evening, head to dinner at one of Cancún's fabulous open-air eateries.
Day 2
Spend the morning on the beach or by the pool. In the Zona Hotelera, you're just steps away from either. Those staying downtown can take a bus to one of the public beaches—Playa Delfines has a bus stop right in front, and El Rey, a Maya ruin, is across the boulevard when you need a change of scenery. In the evening, head to one of Cancún's iconic nightclubs—CocoBongo and Grand Mambocafé are always hopping. For something mellower, join local hipsters at Amarula Con Acento Tropical for creative cocktails in a unique patio setting.
Day 3
Spend a day exploring the Riviera Maya. A rental car makes life easier, but it's certainly doable by bus or taxi. Playa del Carmen's Quinta Avenida is good for window-shopping and people-watching, while Xpu-Há and X'cacel's strands make for excellent beach days. If you like snorkeling, consider going to Puerto Morelos or Laguna Yal-Ku.
Day 4
Leave bright and early to get to the Maya ruins of Chichén Itzá before the crowds do. Spend the morning there, followed by lunch in the colonial city of Valladolid. From there, go swimming in nearby cenotes or visit Ek' Balam, a much smaller ruin. Both Valladolid and Ek' Balam have good lodging options if you want to stay overnight.
Day 5
Spend this day on either Isla Mujeres or Isla Cozumel, both easy to reach by ferry. Divers can enjoy a tank or two, especially at Cozumel. If you prefer snorkeling, trips can be booked at dive shops or on the ferry pier of either island. Or just chill out on the beach—Playa Norte in Isla Mujeres is a sure bet, and the windswept eastern side of Cozumel is a great option for beachcombing. Either way, definitely think about renting a car or golf cart, which allow you time and flexibility to explore either island beyond their central areas.
Day 6
Back in Cancún, this is your last full day. If you're up for it, book a snorkeling tour or visit the Museo Maya de Cancún, an excellent archaeological museum at the southern end of the Zona Hotelera. Otherwise, sit back, relax, and enjoy the pool and beach—it's been a busy week!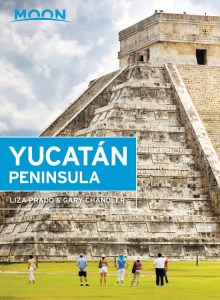 Experience stunning Maya ruins, dreamy beaches, and epic outdoor thrills, from cenote-diving to kiteboarding, with Moon Yucatán Peninsula.
Pin it for Later