These free, printable travel maps of the Yucatán Peninsula are divided into seven regions:
Explore the Yucatán Peninsula with these helpful travel maps. Ensure you have the newest travel maps from Moon by ordering the most recent edition of our travel guides to the Yucatán.
---
Travel Maps of the Yucatán Peninsula
---
Cancún and Isla Cozumel
Cancún has two parts: The Zona Hotelera (Hotel Zone) has Cancún's top resorts and nightclubs, plus miles of beautiful beaches. But if you don't mind hopping a bus to the beach, downtown has cheaper food and lodging, plus some unexpectedly cool bars and cafés. Isla Cozumel's pristine coral reefs and crystalline water attract divers the world over; fewer people realize the island also has a scenic national park, numerous beach clubs, a tournament golf course, even an important Maya ruin.
---
The Riviera Maya
Stretching 130 kilometers (81 miles) from Cancún to Tulum, the Riviera Maya has megaresorts and boutique bed-and-breakfasts, busy cities and quiet villages, great reef diving and amazing cenotes (freshwater sinkholes).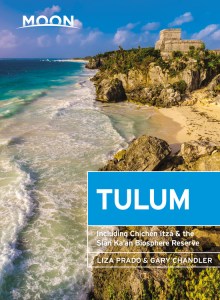 With idyllic beaches, rustic cabañas, and the turquoise sea, Tulum has all the makings of a perfect getaway.




---
Tulum and the Costa Maya
Tulum is justly famous for its stunning beaches, eco-chic bungalows, and namesake Maya ruin, with a dramatic view of the Caribbean. Directly south is the pristine Sian Ka'an Biosphere reserve and beyond that the isolated beach towns of the Costa Maya. There's a lovely freshwater lagoon, Laguna Bacalar, a short distance from Chetumal, the busy state capital and gateway to Belize.
---
The State of Yucatán
There's no place like Yucatán state for culture, history, and charm. Mérida, the capital, is a beautiful colonial city with excellent museums and music and dance performances. Yucatán is also home to Maya must-sees like Chichén itzá and Uxmal, plus myriad smaller and less-visited ruins. As if that weren't enough, the state has great options for bird-watching, caving, kiteboarding, and swimming in cenotes, too.
---
The State of Campeche
In colonial times, Campeche City constructed a massive wall to ward off frequent pirate attacks. Today, the same bulwarks mark the city's colonial core of brightly painted buildings and beautiful churches, akin to Mérida but far less visited. Southern Campeche has numerous Maya ruins, also seldom visited, including the massive city of Calakmul, today buried deep in a forest reserve that's home to parrots, monkeys, even jaguars.
---
The State of Tabasco
---
The State of Chiapas